LEARNING FROM FAILURE:
FROM COLLIN POWELL TO SHANNON REYNOLDS
by Sue Wolinsky, Family Member (IL Army National Guard)
"There are no secrets to success.
It is the result of preparation, hard work, and learning from failure."

Colin Powell, former US General, Secretary of State,
and National Security Advisor,
who died from COVID-19 complications on October 18.
Shannon Reynolds dreamed of serving in the military from early on. A military academy appointment loomed, but that hope was dashed because of poor eyesight. He didn't find out until years later that an appointment to a different military academy would have been possible. He'd drifted in and out of college after high school, married and suffered the loss of an infant child. He knew he needed a focus, a direction. So, he enlisted in the US Air Force. He'd earned an open enlistment, meaning that he could start his service when a position he'd qualified for and was interested in became available. He chose "accounting open" to enlist quickly. He finally made it to the military – his dream was beginning to become a reality.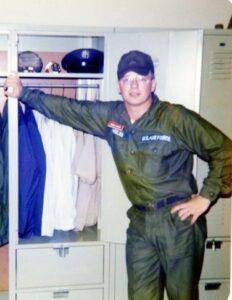 Reynolds, one of the Caucus' two Vice Chairs for NM Congressional District 2, started basic training at Chanute Air Force Base (AFB) in Illinois in January 1975. It was pretty ordinary, for the most part, until his Training Instructor (TI) asked him to take on leadership of his dorm. The previous two Dorm Chiefs didn't work out. The TI said the job would be voluntary, but hinted that his basic training experience could be lengthened if he didn't take it. He took the job and executed it well.
"I was even able to keep two trainees from killing each other only weeks before graduation," he said.
Now an E4, he went to Shepard AFB for Technical Training School. Along with his accounting work, he made sure everyone got paid. "I was a morale officer," Reynolds joked. This assignment went pretty smoothly until he received an Article 15 after being unwittingly involved in an encounter involving marijuana. "I told the truth about what happened. I didn't think I did anything wrong. But apparently I did," he said. "It took me 20 years before I'd even mention this," he sadly reflected. "But times have changed. Attitudes toward marijuana have changed a lot."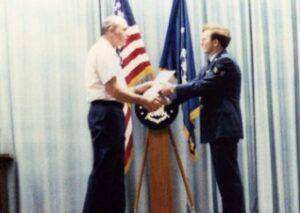 Although he kept his rank, the Article 15 stipulated that Reynolds would not be allowed to re-enlist. "That devastated me," he said. "I'd planned to make my career in the Air Force. I felt like I was part of a family, part of a structure that worked and was successful. Now, I felt like a failure."
So, when I got out, I knew I had to think long and hard about what I would do with my life. I salvaged my previous college credits and earned a bachelor of science degree in engineering from the University of Illinois in Urbana-Champaign. There, I also felt like I was part of a family. Having learned from my Air Force experience, I worked hard. I got good grades. I even taught a Mechanical Drawing class as an undergraduate Senior. I went to work for IBM after graduation. I was on my way to becoming a success."
Since then, he has been successful in a diverse career including IT, engineering, business sales, teaching, and, yes, politics. He even has a few books he plans to write. Not long after he came to work for IBM in New Mexico decades ago, he helped furnish the engineering lab at New Mexico State University with computer equipment. After moving to Ohio for his job, he was elected as a City Councilor in Milford, a Cincinnati suburb. 
Returning to New Mexico in 2015, he was elected to the Doña Ana County Commission in November 2018. That role has led to his appointment to the Spaceport America Regional Spaceport District Board in southern New Mexico. "I was at the Flight Operations Center when Virgin Galactic flew into space, just a few months ago," he said. Being a County Commissioner has also given him the opportunity to participate in important events involving both the White Sands Missile Range nearby and Fort Bliss in southwestern Texas. "This has benefitted the Caucus because I can share these news events with the Caucus in a timely manner," he said. (See related article and photos for recent events he participated in.)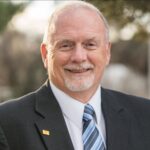 "I am honored to have served my country and still honored to serve our country, county, and citizens in any way I can. Since less than 10% of US citizens serve, we are a very select group willing to give their all for our country. As a Veterans Advisory Council member, I am proud to fight for and represent the needs of the military community I serve."
So, today, Reynolds looks back fondly on his military experience. "I've learned a lot from that Article 15, decades ago. But, I don't consider it a mistake anymore. Like Colin Powell, I've learned from that experience and many others. I've used it as a platform for preparation and hard work, a platform on which I've built the rest of my life."