A PIONEERING WOMAN IN THE NAVY:
RAQUEL ROYBAL
by Sue Wolinsky, Family Member (IL Army National Guard)
She stood proud and tall in her US Navy uniform at the end of the tiny pier in a desolate part of Okinawa. Still, it provided the only hope she had of letting him know that she was here to surprise him – halfway around the world – on his 7-month deployment in the Far East. She originally told her new husband of two months that she couldn't come, that her own Navy duties prevented her from leaving.  But when she changed her mind, she realized there was no way to let him know she would be coming to meet him in Okinawa after all.  She rushed from the military base to the port in her civilian clothes, but when she got there, she learned his ship would not be docking.  Rather, it would be moored in the bay.  There was no way to contact him, so she had to think fast and be creative. And that's how she came to be standing in her "light blues" at the end of the tiny pier.  Her only hope was that he'd see her standing there when he'd scan the shore from the bridge of the USS Point Defiance.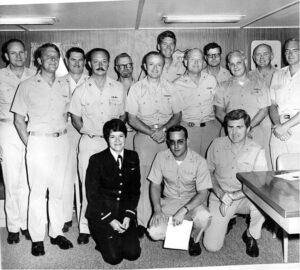 Almost immediately he saw her standing there as he scanned the shoreline.  At first, he saw a woman in a Navy uniform, but when he looked closer, he realized it was his bride, LTJG Raquel Roybal. The adrenaline of her surprise drove him to request permission from his Executive Officer (XO) to meet her ashore.  During their brief time together ashore, they made plans to meet in the Philippines, his next port of call. There they had a much longer and much needed reunion; that is, after she found her own temporary housing on base because the base personnel assumed she'd be a man, and they'd had her booked in a room with three other military men.  
That's how LCDR (ret.) Raquel Roybal, who is a Veterans and Family Members Caucus (VFM) member in Congressional District 3, faced challenges during her career in the U.S. Navy — with tenacity and her out-of-the-box problem-solving ability. She served from 1967 to 1993, when she retired.  During that time, she witnessed history-in-the-making as the Navy gradually took steps to incorporate women into their ranks.  She also, perhaps unknowingly at first, paved the way for many of the women who came after her.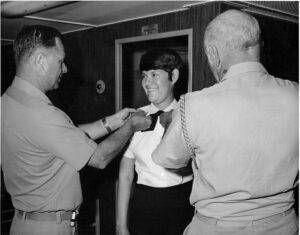 Her service included 6 years in the Navy Reserves.  After graduating from the University of Arizona in 1973, she attended Officer Candidate School (OCS) in Newport, RI, to be commissioned as an officer in the Navy. She was a member of only the fourth co-ed OSC class to graduate. "We took all the same classes as the men, except for celestial navigation.  For some reason, they thought women didn't need to take that class," she said, reminiscing on her early days in the Navy.
Her first assignment as an ensign was on the embarked staff on the USS Dixon. She was the first woman to serve on a tender, but because she was part of an embarked staff (meaning she worked on the USS Dixon but lived ashore), she isn't recognized in Navy records. They recognize only the first women assigned to the ship's company (meaning they both worked and lived on the ship). Still, she paved the way for women who followed.  "I was told to keep a low profile when the USS Dixon made its quarterly at-sea trip" she recalled. The ship went to SOCAL bay where dozens of sailboats circled around the ship.
 
She worked in the stateroom around the bulkhead from the ship's XO. She coordinated 22 west coast reserve units and later took on public affairs where she arranged tours of submarines in port.  She also scheduled ROTC units.  During one at-sea ride for the ROTC unit, she included herself on the roster for a tour of the USS Pintado (a submarine) and, since no officers objected, she was able to go onboard for the tour.  "Most women never got to do that at the time," she said.

She was teased in her two years on the Dixon, but she enjoyed the banter. Men on her ship got the word that she should not be whistled at, but when she walked down the USS Sperry's pier, she threatened to write up a few male sailors for whistling at an officer.  They didn't whistle at her again. At the end of her assignment in 1976, however, several enlisted men whistled at her in tribute as she left the fantail of the USS Dixon.  "I enjoyed my time on the Dixon," she said.  "It wasn't all bad. Some of the guys treated me like a little sister."

Her next assignments included:
Three months at Naval Air Station, Millington, near Memphis, TN. 
Teaching Leadership Management at the Naval Amphibious School. 
Serving as administrative officer and legal officer at the Naval Ocean Systems Center. 
Partly because of her heritage as member of Sioux tribe, she was assigned as Officer in Charge of the BOOST school for disadvantaged students after they completed Boot Camp and before they began their apprenticeship "A" schools.  When she said the role wouldn't give her enough work to do, she asked to be reassigned.
Served as administrative officer at Service Schools Command, Naval Training Center, San Diego. While there, she was assigned as Assistant Regimental Commander, making Navy history by becoming one of three females to hold that position.
Assigned as head of three departments, later taking on Security as well, at the Naval Air Station in Alameda, CA. 
At this point in her career, she was a mother of three children with a husband who was at sea most of the time.  Realizing that she wouldn't have the support she needed to attend Naval Post Graduate School, she was approved to earn her master's degree in educational administration at San Diego State. Then she was assigned as a department head at OCS.

After her first screening for commander was unsuccessful, the Naval Training Center, Newport, wanted to support her and searched for an XO assignment.  Because of this mentoring, in 1988, she became the first woman XO of the Naval (Retirement) Home in Gulfport, MS. (It later became the Armed Forces Retirement Home after combining with the Soldier's and Airman's Home in Washington, DC.) "My dad (a US Army Air Corps airplane mechanic, Weather Officer, and Radar Intelligence Officer who joined the New Mexico National Guard after World War II) was so proud of me," she reflected.  "He came to Keesler AFB near the Naval Home for surgery and was impressed by my work there."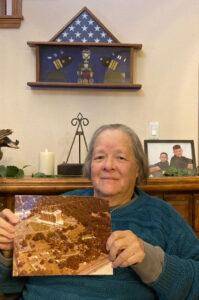 While there, she managed the reconstruction of the building's outer walls and received a commendation upon leaving the home in 1992.  She also managed the disaster preparedness plan which predicted the tides of Hurricane Katrina could not reach as high as the building, based on advice from the disaster preparedness office in Gulfport. The building was shaped like the prow of a ship located near the beach, and the glass doors at the bow withstood the first waves of Katrina, but the aggregate waves wrapped around the building and entered through windows at the back of the building, flooding the entire ground floor. Deemed structurally unsafe, the building was torn down and later rebuilt. 

LCDR Raquel Roybal retired in 1993, following a second commander screening, to deal with health issues. "I saw many things change during my time in the Navy. I had to deal with sexism. I'm pretty sure I helped make it better for the women who came after me," she concluded.