by Sue Wolinsky, Family Member (IL National Guard)
Vet Advocates for First Bill to include Panama Canal Vets 
in Service-related Diagnoses 

Chemical Agents Believed to have Caused 50 Years of Pain and Suffering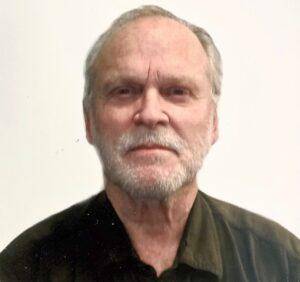 Earl James (shown), former Spec-5 in the Army 10th Infantry, and a DPNM Veterans and Military Family Members Caucus member, has spent most of his life advocating for people and causes the world over.  Now his advocacy has taken on a highly personal focus.  It has been over 50 years since he served in the U.S. Army in the Panama Canal Zone (CZ), when he was exposed to chemical agents that he believes are related to his decades of pain and suffering.
"It wasn't until a few years ago, when I came across the Military Veterans Advocacy (MVA) group that I learned there has been documentation of the herbicides used in the CZ and research about a relationship between these agents and a host of medical diagnoses," James explained.  That's when he met Donna Tornoe, who is a board member of the MVA and director for the Veterans of the Panama Canal Zone.  She lived in the CZ with her Army husband 1974-1977.  She has since spent decades researching this issue and advocating for legislation to establish service connection for illnesses experienced by veterans who served in the CZ.

"I happened to see a post on a Facebook page that claimed Agent Orange was in Panama.  I started my research that day," Tornoe said.  "I knew from other friends how devastating dioxin could be.  And there were many veterans who were in Panama who were also very sick with all the diseases on the VA list, which have been connected to persistent chemicals, which were all used in the CZ.  And many with diseases not yet connected or studied because the Panama CZ is not on the VA list!" 

Then James began doing his own research, building on Tornoe's.  He learned there was a probable connection between the herbicides he'd been exposed to and Parkinson's Disease, as well as other diseases that he'd experienced symptoms over the past 50 years. 

So he is casting a wide net of support for HR 5026, known as the Panama Canal Zone Veterans Act of 2021.  This bill was introduced to Congress in August and is currently before the House Committee on Veterans Affairs, along with two other similar bills that extend the presumption of service-connected illnesses related to herbicide exposure by veterans of Guam, American Samoa, Johnston Island, and Thailand.  (See Call to Action in "National Legislative Priorities" associated with this article, to learn how we can support these bills.)
 
HR 5026 aims to "provide for a presumption of service connection for illnesses associated with service in the Armed Forces in the Panama Canal Zone (CZ)," as described in the long title of this bill.  The bill is significant because this is the first legislation to address service-related illness for veterans who served in the CZ 1958-1999.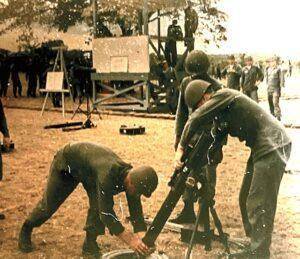 James spent nearly two years at Fort Davis in the CZ, in an 82mm mortar squad of Company C, 4th Battalion, 10thInfantry.  In addition to frequent training exercises, he served in the motor pool and in the jungle orientation course for newly minted 2nd lieutenants who were about to be deployed to Vietnam. James took on the role of the enemy, the Viet Cong! He also served as military journalist and – for only two days — macheted dead tropical plants near an ammo storage unit.  Those plants had obviously been sprayed with a powerful herbicide, and James and his fellow soldiers worked without any personal protective equipment (PPE) or information about potential exposures from working in that area.  That is where he believes he was exposed to an herbicide in the Agent Orange family; that and the screened open windows in the barracks near a busy road that was sprayed with herbicide regularly.

There had been rumors at the base about such contaminants, but no proof of Agent Orange at that time.  His legs swelled up and had red splotches soon after he had whacked the treated plants.  He spent a few days in the base hospital and then was on bed rest.  Fatigue overwhelmed him for two weeks.

"Then I was back to normal," he said.  "I got out of the Army in 1968 and didn't have any other symptoms for 20 years."  In that time, he finished his bachelor's degree and earned his master's degree.  He worked in museum education in Washington D.C. and moved to Pittsburgh where he helped establish the Rivers of Steel Heritage Area.  There he also began his career advocating for global peace and justice policies, engaging with U.S. Congressional Representatives, Senators and State Department officials, and serving as an International Election Supervisor in post-war Bosnia.

It was in 1988 in Pittsburgh that symptoms related to herbicide exposure surfaced. Raking leaves in his back yard one Saturday, he passed out.  Coming back to consciousness, he assumed he had experienced a heart attack, with pain in his left arm and chest.  However, his doctor diagnosed his condition as Chronic Fatigue Immune Deficiency Syndrome (CFIDS), caused by a collapse of his immune system (a condition linked to herbicide exposure) and a subsequent massive proliferation of the Epstein-Barr Virus in his bloodstream.

"My immune system never recovered enough to handle that virus on its own," he said.  Other diagnoses followed over the ensuing decades: low blood pressure, hypo-thyroid, and other viruses.  The fatigue could last for years at a time. 

No Western medical treatment was available.  Private doctors and the Veterans Administration were of little help in finding the cause or any treatment for his debilitating ailments.  There was no officially recognized basis for linking his military service in the CZ with the myriad symptoms he'd experienced "and there still isn't," James said.

He eventually turned to traditional Chinese medicine and functional medicine – and napping in his office when possible – just to survive each day.  Like most veterans, he had to make a living.  His unconventional medical assistance helped him slowly regain strength, but none of it was covered by insurance.  James finally discovered that ozone therapy could eliminate Epstein Barr Virus from his bloodstream but learned it does not strengthen immune systems.

Now he has symptoms that are similar to those of early Parkinson's disease, but that diagnosis has not yet been added to the VA list of presumptive diseases.  With COVID-19 still running rampart, he's been tested three times recently because his symptoms were similar; each test was negative.

Once again he has turned to unconventional medicine to seek some relief, but the medical bills were still mounting.  He filed a medical care bankruptcy case in 2008 after decades of out-of-pocket medical expenses.  Today he works from his home office, raising funds for a public health nonprofit in New Mexico and acting as senior advisor to a global environmental governance project out of Portugal called the Common Home of Humanity.

"I am happy with what I have accomplished amidst the weeks, months and sometimes years of debilitating illnesses," James said.  "I was pretty much on my own.  But I survived with assistance from unconventional medicine and a meditation practice."