You have to BE the Change!
by Raquel Roybal,  (LCDR., Ret., US Navy)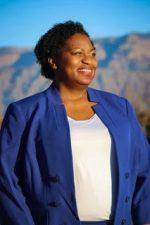 "You have to be the change," said Barbara Jordan, a former US Air Force (USAF) Master Sergeant (E-7), who is the only Democratic candidate running for mayor in the nonpartisan municipal election in Rio Rancho. This is in New Mexico's third Congressional District (CD3).
Her lifetime experience has prepared her well for this, her first foray into running for public office. One would hardly believe that this ever-smiling woman and mother of a teenager in Rio Rancho has the grit to throw her hat into the political ring of a city council that is Super Majority Republican, owning six out of six seats.  "It's hard to break into the 'inner circle' of Rio Rancho politics," she said.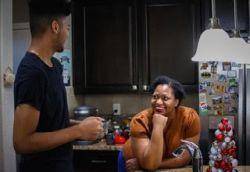 Jordan learned early in life that only 
she
 could change her life for the better. "I ran away with just the clothes on my back at 19 years old, weighing only 116 pounds," she said, recalling her first meeting with Air Force recruiters.
When asked how she felt her experiences had prepared her to run for mayor of Rio Rancho, she emphasized that her difficult home life and her Air Force duties prepared her to fight for the 'People's People'. Although her MOS was personnel assistant, she took whatever assignments were thrown at her from early on.  These assignments depended on the needs of the black ops bases where she was assigned.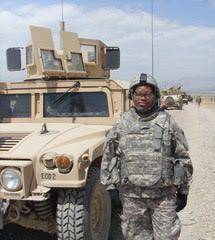 "I know I can do anything," said the former gunner at an Explosive Ordnance Disposal Unit in Afghanistan, "because of my military experience. I honed my leadership skills.  It makes you look at the world in a unique way.  I'm humbled and very appreciative, because I've seen the worst of the worst."
Recalling that experience, she said, "There was no airfield.  You jumped out of the helicopter (while still flying) near the ground at an unmarked place."  She was the only USAF female in her unit.  "The guys built me 'my own space,''' she said.  "It was the scariest deployment of my career and the best experience of my life."
Also stationed in Cypress, she learned how important it is to appreciate the people in your family, in your culture. "I saw how the people there appreciated family and each other.  They did a lot of little things to help people. For example, cashiers  in  stores got to sit down at their registers. That's something that would never happen in the US," she said.  
During her 20 years of service, her other duty stations were in Kuwait, Iraq, Australia and South Korea. She retired as an E-7 Master Sergeant from Kirtland AFB. She moved to Rio Rancho, mostly because of the good schools, prior to her retirement.
Since retiring, her keen awareness of the need to support has shone brightly.  She began serving her community by collecting winter clothing, helping the homeless and children in foster care, and becoming a court-appointed special advocate (CASA).  She has also helped voters and served as keynote speaker at some of the Black Lives Matter protests.
At one voter registration rally in Rio Rancho, she was verbally and physically attacked by protesters.  "They chanted, 'go back to the city you came from,'" she recalled. She replied to the hecklers, "I live right down the street… They didn't think that I, a Black woman, would be a voting rights advocate living right here in Rio Rancho…. They see me, they see my black skin before  they  see  me,  the  person," she said.  "We have to get beyond that."
What a motivation to run for public office – to shake up 'local myths' about the populace of Rio Rancho.  Jordan became involved with and graduated from Emerge New Mexico, which "recruits and trains women from across the state who want to run for any level of political office."