USAF Vet Runs for Rio Rancho City Council Seat
by Sue Wolinsky, Family Member (IL Army National Guard)
Coming from a family of five generations who served in the Air Force (USAF) and the Army, former E-5 Joshua Jones (USAF) initially was unsure of what he wanted to do. "I kept telling myself that I didn't want to go into the military, yet what did I take for an elective class? ROTC," he recalled. He was 18 years old when he enlisted for a six-year stint in the USAF.
Josh Jones is a veteran and former law enforcement officer who knows that Public Safety – keeping our streets safe – is a top priority.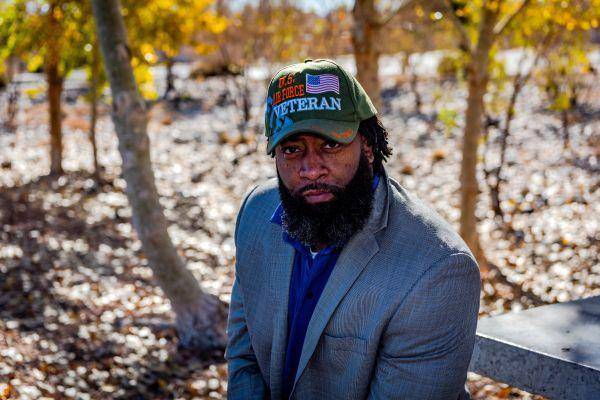 Jones, a member of the Veterans and Military Families (VFM) Caucus of the Democratic Party of New Mexico, also didn't see himself going into the political arena back then. However, now he is the only Democrat running against two Republicans in the nonpartisan Rio Rancho City Council race for District 3.
"My children are my reason for running for office," the father of four said, after quieting his five-month-old daughter while bringing her into the room where he spoke to us virtually. "Three of them are nearing adulthood. I know there are few opportunities for them in Rio Rancho. But I don't want them to leave here because they feel they have to. I want to build more opportunities here in Rio Rancho."
HIS MILITARY LIFE. "I enlisted during the time when the military was encouraging early out but they miscalculated how many E-6's and E-7's would leave. That left a leadership gap in the USAF. That leadership gap led my Master Sergeant to assign me to get certified as a Flight Chief. I only had four days to do it, foregoing the usual 60 days of training. That was an interesting time in my life," he said. "During the reduction in force, I managed 67 personnel. I wouldn't have made it through if it hadn't been for an E-6 who had some experience who came over to help out."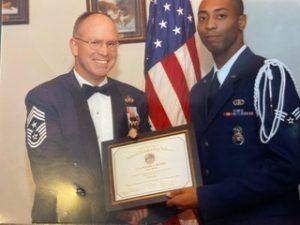 "I became known as the soldier to call on in time-sensitive, mission-critical situations," he said of that experience and other assignments in the USAF.
The Madisonville, KY, (near Louisville) native took Basic Military Training and Technical School at Lackland AFB near San Antonio, TX. "I initially signed up for six years," he said, but I was thinking about staying in for 20. I also wanted to travel in the military. But I learned a little too late that if I wanted to travel, I should have joined the Navy," he said, shaking his head.
In the USAF, he mostly did security work, guarding Weapons Storage Areas (WSA) and convoys carrying classified "packages". He served as a Security Forces Member (SF), which is the civilian equivalent of a cop/police officer. He thought his security detail would be short-lived, but that proved to be an incorrect assumption that eventually caused him to get out while stationed at Kirtland Air Force Base (AFB) after 11-1/2 years in the USAF. He had been interested in Special Forces, but assignments mentioned in the films about Raven Air Mobility Warfare and plane security he was shown by the recruiters never came to pass.
He was assigned to Maelstrom AFB in Great Falls, MT, where he endured the cold temperatures for 5-1/2 years. "I couldn't believe it when they said it was too cold to drive your car because you'd get frostbite or die," he recalled. While there, Jones was assigned to guard missile convoys. He tried to get out of Montana at 2-1/2 years, but that didn't work out.
He next got a 15-month remote tour to Incirlik Air Base in Turkey. All the while, he put in for locations where no one wanted to go, but to no avail. Then he came stateside, working security at a missile alert facility, before he was assigned to Kirtland AFB.
"I knew I didn't want to go into law enforcement when I got out," the 38-year-old said, "so while I was at Kirtland, I went to school to get certified to sell health and life insurance. I was getting prepared for my future."
Just before he was discharged, Jones was awarded the number one non-commissioned officer among 32 of his peers at KAFB.
HIS CIVILIAN LIFE: After leaving the USAF, he spent a few years in wealth management, and went back to school. He started at the Community College of New Mexico (CNM), then went to the University of New Mexico (UNM). He earned a BA with a concentration in entrepreneurship. He is currently pursuing his MBA while running his consulting firm, partnered with the Service-Disabled Veteran Consulting Group.
In 2019, he dipped his toe into the political world when he was awarded a Wounded Warrior two-year Fellowship to work for then NM Congresswoman Deb Haaland (CD 1), now Secretary of the US Department of the Interior. "My job was to 'be Deb' when she wasn't in the district. I learned so many new skill sets – writing her speeches, doing policy analysis, handling constituent cases. It was the best work environment that I've ever been in," he said. "It was collaborative, energetic, challenging and pleasant. I always was excited to go to my job when I got up in the morning."
CONTINUING TO SERVE IN HIS COMMUNITY: "After leaving the military, I believe that my mission is to serve the City of Rio Rancho. I am ready to work with everyone who is willing to work with me to build a better city for us all."
Jones credits his zeal to serve his community to his military values, the work ethic his single mom instilled in him, the valuable experience he learned while working for Rep. Haaland, and challenges he learned – and continues to learn – as a small business owner.
"My values are one and the same with military core values: integrity first, service before self, and excellence in all that I do," he proudly stated. He's demonstrated that he lives these values since he re-entered civilian life.
He is a former board member of Paws and Stripes, the organization that provides animal-assisted therapy and other mental health services to military veterans and their families living with service-connected trauma
Former Outreach Officer for the VFM Caucus
Current member of the NM African American Chamber of Commerce
A subcommittee member for Albuquerque Mayor Tim Keller's Veterans Mental Health and Transition Collaborative.
As Jones concludes this interview from his home, he's cradling his five-month-old daughter on his lap. "Her mom had to go to the store," he explained as the smiling infant stared into his laptop screen. One more example of how Jones juggles the responsibilities of the many hats he now wears; he does it simply, completely, with the quiet assurance that life is directing him to keep serving his community.