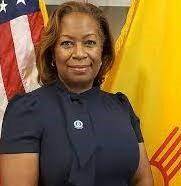 Sonya Smith, a Gulf War USAF veteran, was unanimously confirmed by the NM Senate as the new Secretary of NM Department of Veterans Services. She is the fifth DVS Secretary and the first African-American to lead this agency. We interviewed her to learn about her background, her confirmation, and her priorities for NM DVS because this department provides critical services for vets and our families. We are pleased she took the time to share her thoughts and look forward to collaborating on common goals.
"Every day is Veterans' Day" is our motto," declared Secretary Sonya Smith, who was recently confirmed as the fifth secretary of the NM Department of Veterans Services (DVS) and the first African-American to lead this agency. "Everything we do is to make the lives of our veterans and their families better."
Her Confirmation
She was appointed DVS secretary-designate by Gov. Michelle Lujan Grisham in October and had been serving in that capacity until her confirmation on February 17th. The NM Senate vote was unanimous (38-0), but the confirmation process became a public issue because of racially oriented questions asked by Senate Minority Leader, Sen. Gregory Baca, R-Belen, during the Senate Rules Committee hearing. 
Sen. Baca asked if she felt comfortable representing veterans in a state that is (only) 2.6% African American and 48% Hispanic. Secretary Smith, who has been in New Mexico for seven years and served as a medic in the USAF Reserves during the Gulf War, replied, "Are you asking if I feel comfortable representing the Department of Veterans Services as a Black woman?" In the discussion that followed, Secretary Smith said, "I am who I am. And I don't think that when Gov. Lujan Grisham tapped me for this position she was concerned about my color. I think she was looking at my skill set and my ability to be the best person foremost."
The governor wrote a letter to committee chairman Sen. Daniel Ivey-Soto, D-Albuquerque, condemning these questions and asking to ensure this will not happen again. The Albuquerque chapter of the NAACP and NM Rep. Patricia Roybal Caballero, D-Albuquerque and vice chair of the House Labor, Veterans and Military Affairs Committee, commented on Sen. Baca's questioning.
Sen. Baca has since apologized to the Senate Rules Committee and to Secretary Smith. She stated, "I have moved on. I was certainly disheartened and disappointed by it. It has made me strengthen my resolve to do what is best for our veterans. I look to develop a collegial relationship with all of our elected officials. That's what's needed to help our veterans."
Her Priorities
Secretary Smith's priorities and initial actions support her goal to improve the lives of our veterans. Her priorities include:
To provide high-quality services as the COVID-19 pandemic continues.

The DVS is currently discussing ways to reopen DVS offices that had been closed or services that had been reduced, such as holding only virtual visits with veterans, due to the pandemic. Visit NEWMEXICO.GOV to learn which services are currently provided at various locations around the state. "We base offices on where our veterans are. But the pandemic has taught us to think broader. We want to have a good mix of a hybrid model in our approach," Secretary Smith said.

The DVS has resumed the process to hire seven more Veterans Service Officers (VSO) around the state. Five positions were funded in FY2019 but a carte blanche 5% reduction in state agencies' budgets put that on hold. "We are currently staffed for 24 VSOs. My goal is to get those vacancies filled as soon as possible," she said.

The DVS website features links to make it easier for veterans to register for the COVID-19 vaccine. Here, she brings her recent experience at the NM Department of Health, where she served as a Special Projects Coordinator, specifically helping guide the efforts of the agency's COVID-19 testing team.

Just a few weeks ago, the DVS began offering free transportation to medical appointments for veterans living in Cibola, Colfax, Harding, Guadalupe, Mora, Quay, San Miguel and Union counties. The program is funded by a grant. Contact information is available at the DVS website.

Management Innovation: Secretary Smith just hired a new program manager to bring innovation to the DVS. "I want her to come up with some new programs and identify where we need to reassess," Secretary Smith said. She also has developed an internal strategic plan and plans to introduce performance measures across the department.

Raise awareness about preventing veteran suicides. The DVS website features several resources on this topic.
Help end veteran homelessness. The DVS website offers several resources on this topic.
Secretary Smith sees the need to differentiate between services by the NM DVS and the federal Veterans Affairs office. "We have an opportunity to raise our profile in the state," she said. She thinks it's important to provide equitable communications to all veterans across the state – young and old, rural and urban, male and female, disabled and able-bodied, access to broadband and to cellphones and computers, and preferred communication styles. "The profile of veterans has changed," she said, "And we need to find out what resources we need to provide (now) in New Mexico."
The DVS proposed FY2021 budget, as recommended by the Legislative Finance Committee, is at $5.9 million. The budget is currently being reviewed by the Senate Finance Committee.
Secretary Smith is looking to future coordination with NM Sen. Martin Heinrich, who has recently been named chair of the Senate Appropriations Committee's Subcommittee on Military Construction (MILCON), Veterans Affairs and Related Agencies. A meeting between the two is planned for early March. She will also meet with Sen. Ben Ray Lujan's office shortly. "Communication is key. It's about developing relationships," she said.
SECRETARY SMITH'S BACKGROUND
Secretary Smith was a medic with the United States Air Force Reserve. "The opportunity to become a medic became a whole new career field for me," she said. She was activated to serve in Operation Desert Shield and Desert Storm. Upon receiving her honorable discharge, she earned a Bachelor's Degree in Health Services Management from Norfolk State University in her hometown of Norfolk, Va., and a Master's Degree in Health Care Compliance from Argosy University.
Smith comes to DVS from the New Mexico Department of Health, where she served as a Special Projects Coordinator, specifically helping guide the efforts of the agency's COVID-19 testing team. Prior to that, she served as Director of Compliance at Southwest Care Center in Santa Fe, and before that, as Director of Primary Care at the University of New Mexico Medical Group.