by Sue Wolinsky, Family Member, Army IL National Guard
"Mavens" and the Military Life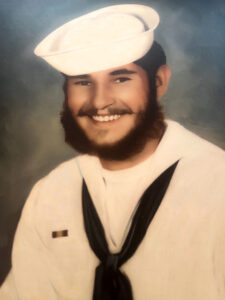 Two people found they shared a family military tradition and a love of learning. Glenn Melton served two years in US Navy, the "Nuclear Navy" to be exact. Kim Melton, his wife, spent several years of her outstanding career in immunohistochemistry at two military hospitals. "We met later in life and found we are both 'mavens', she said, exuberantly explaining their shared love of learning and how it feeds their political involvement and other interests in their retirement in Alamogordo, NM.
THEIR MILITARY FAMILIES: Glenn Melton (former US Navy E-4) and Kim Melton appreciate the military way of life. He was born on an Army Base in Ladenburg, Germany, son of an Army lifer. His dad, Gene Melton, an E-8 when he retired in Tacoma, WA, enlisted at the end of World War II, served in the Korean War and did three tours in Vietnam. He took his family from Germany to Georgia, then Massachusetts and back to Germany, then to Tacoma, WA. "As a kid, I enjoyed being in the military. I had great friends, but I hated moving around. Being in the military makes you resilient. You're able to deal with all sorts of people all the time. You have to be able to just start over and not moan about it. That was something I looked forward to when I joined the Navy. I had some of the best friends ever then," Glenn said. Glenn took his whole family to visit his birthplace in 2010, where he got to practice his native German.
Kim Melton worked in pathology, specifically in histology, performing immunohistochemical staining, a highly specialized lab test used to stain biomarkers to help pathologists diagnose cancer cells, as well as infectious disease. With only a bachelor's degree in zoology and professional certifications, she worked on prestigious research projects and in clinical settings over her career. This included several civilian facilities and two military medical facilities, Madigan Army Medical Center in Tacoma, WA, and the Gerald Champion Regional Medical Center in Alamogordo, NM, the first hospital pairing military and civilian services in one facility in the United States. That job brought both of them to New Mexico in 2018. She also had several close family members serve in the military. Her dad, PFC Joseph Munaretto, served as a medic in the Army between World War II and the Korean War. She worked with her brother, Lt. Col. Joseph Anthony Munaretto, at Madigan for 3 years. He followed in their dad's footsteps (medicine) and served as a triple certified pathologist. "Working in the same facility with him was such a gift," she reflected. He died at age 38 of a heart condition. "We both knew that the military gives you a way of life that gets passed on. I am grateful for that," she said.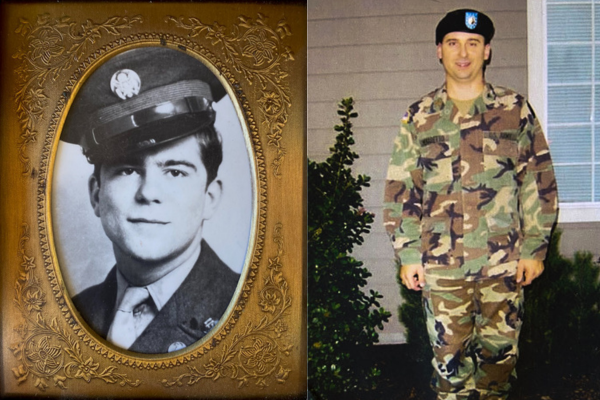 GLENN'S MILITARY SERVICE was short-lived, but not by choice. Even so, he made the most of it. He enlisted in 1970 still in high school in Tacoma, WA. He'd hung up his drums from the band he and a few high school friends had formed before he enlisted. His reasons were varied, but similar to those of other enlistees. "I wasn't for war, but I wasn't a pacifist. I looked around and said there was no way my parents could afford to send me to college. I looked at the various services. I knew I didn't want to go to Vietnam. I didn't want to be a in a fox hole. Then I thought, 'I always liked boats.' I knew if I was underwater, I'd never get bombed and I'd never touch soil. So, I joined the Navy, besides – for me, the Navy had the best educational programs of all the services" Glenn mused.
The prestigious Nuclear Field Program (often referred to as the "Nuclear Navy") was a special program. "I was interested in that, but it meant I had to sign up for six years. I didn't mind that because I knew it would give me some great learning opportunities. Learning is what drives my life," he explained. The program requires a high ASVAB score (Armed Services Vocational Aptitude Battery) of 252 just to get in, as well as excellent performance during extensive training. Glenn did boot camp in San Diego, where his newly shaved head made his naked ears blister in the hot southern California sun. He was rated an Internal Communications Electrician's after nine months of training. After A-School training, he went through six months of intensive math, physics and engineering classes in Nuclear Power School in Vallejo, CA. Click here to learn more about the program: Navy Nuke: Enlisted Nuclear Propulsion Program (2023) (navyenlisted.com).
Things were going well. He was assigned to the USS John Paul Jones in dry dock near the Queen Mary – another opportunity for learning. "When you're in dry dock, equipment gets upgraded, you're on watch…. We had all the goofiest equipment to fix. I figured a lot of stuff out on my own because I was interested. We had electric power distribution, and motors and generators. I learned how to take stuff apart and put it back together," he reminisced. "I learned a lot but had a lot of fun too. Everybody loved it when I hooked up my 8-track tape player to the internal comms system and we rocked out to the Rolling Stones," the former rocker said.
"Two weeks before I was reassigned to the next school, we went on sea trials. We rode around Catalina Island, shot sharks, and went as fast as we could go (32-34 knots). It took a while to get my sea legs. I lived off base during training, so I had to sleep on the boat again. I was on third rack (top) right under the air conditioning," he said. "I did that for two weeks before I shipped to Idaho Falls for nuclear reactor training on the Nautilus prototype."
"That's when my health got in the way of my Nuclear Navy future. During a medical exam, I was diagnosed with Type 1 diabetes. You can't live on a nuclear sub with diabetes. It was the end for me. I was disappointed. I felt I didn't fully accomplish what I set out to when I enlisted: not getting killed in VN and get education," he reflected.
"I was assigned to Treasure Island to get discharged. It's right on the Bay Bridge. I spent six months there experiencing the proverbial 'Summer of Love' in San Francisco. I spent a lot of time in Golden Gate Park," he said. "Then I went home. I kicked around for a while getting back into the rock 'n roll scene but I knew I had to start college. I was eager to learn more," he said. The GI Bill paid for his education.

EVOLVING FROM NUCLEAR NAVY TO DATA GENIUS: Glenn jumped from learning everything about radioactive systems the Navy used, to hardware and teaching himself software, before he dove into data analytics. It was a natural technical progression for him during a time when the IT industry was evolving rapidly. You might say he was in the right place at the right time, but it was his love of learning and technical skill that made him successful. He balanced his technical zeal with a servant management style and a keen eye for creating and improving on processes to make things work, while turning a profit. He brought the entire package to the table, whether he was working for himself or another technical company. Then he got more training, paid for by the GI Bill. He earned the Lean Six Sigma Black Belt, which sent his marketing efforts soaring by focusing on analyzing business and operations processes to save a company money. He accomplished all this in a matter of 45 years in his professional career. He still applies these skills, especially data analytical skills, in his political volunteer work now.
"I moved to Phoenix in 1974. I didn't want to deal with the gas shortage and gas lines in California. I didn't have a plan but I knew I was ready to go back to school. Building on my training in the Navy, I got my electrical engineering degree from DeVry Institute (then). Weapons companies recruited heavily there. This experience took me to the next level. I got straight A's so the professors encouraged me to apply for a TA (teaching assistant) position at the school. I had a great time learning and teaching," he said. "I was tough but I was fair. I treated everyone equally. I loved it – just dealing with facts and data."
He immediately had job offers from several national labs. He married his first wife, a fellow TA at DeVry. They both took jobs at national labs in California. "I started in an inorganic chemistry lab. I worked with fluorene and other things to make nuclear weapons safe if stolen. We blew stuff up and spent a lot of time in the boom tank," he added, lightly.
He was at Sandia Labs. His quest to learn new technologies drove him forward. "I got hold of a DEC computer. Taught myself about it, worked on it, then started building my own computers," he said. That led to building electronics for an aqueduct system, doing leading edge work. He built centralized computing systems to open and close the locks, ran the equipment, and wrote the software. "One of the reasons I got into computers is that you could learn anything. I learned programming and that was only the beginning of my work in IT," he explained.
"Then I became more interested in software. Then two associates and I started our own company. I mortgaged my house to keep the company going because our major customer didn't pay us properly. We designed equipment based on the software I wrote. We put load shedding systems in a battery company to turn things on and off…. That first company I started was the most challenging for me. It was fitful. I had to do all the technical work myself. There was a lot to it." That was the first of several companies he started.
He kept writing software and designing equipment to perform all sorts of functions, from communications satellites, to plastic foam cups, to systems for processing bankruptcies and state unemployment systems. He worked with larger and more powerful computers and installed minicomputers, too. "The work I was doing was very individualized. It's like boxing, which is an individual sport. I love boxing. I like doing individual work that I'm responsible for," he said proudly. He was able to do all this while still living in Palo Alto, CA. He turned down jobs that would require him to move or wouldn't let him work remotely, long before the COVID-19 pandemic popularized the practice.
"I learned that if you can write software, read a spec and all that's related, you can do anything. Even today, I would advise a young person to get into writing software. Software is still a good industry. But you have to stay flexible. Don't specialize. You have to be a 'big picture' person in a 'tiny picture' world," he coached. "Make your mistakes. We'll celebrate you. That's what said when I managed a diverse team to create software to certify all the bankruptcies filed in court. My crews got some of the best achievement awards," he boasted.
Again on the leading edge of technology, he wrote software to tie a virtual desktop to other desktops "in the cloud". Yes, "the cloud" that everyone takes for granted now. The term "cloud computing" was coined in 1996 and grew from military origins in the 1960's, according to Solved Magazine (The history of cloud computing – SOLVED (scality.com).
Glenn dipped into data analytics in the early 1990's when he learned that nobody knew what to do with all the data produced by these systems that he and others were creating. This is just about the time that the data analysis field burst open in IT, 30 years after IBM developed the first computer system capable of processing large amounts of data (see www.dataversity.net for a history of data analytics). Glenn wrote data analytics software on the cloud computing project and later for call center data and other projects. He wrote his dissertation on this topic. He also started a new company that still exists, DataValue, around this time.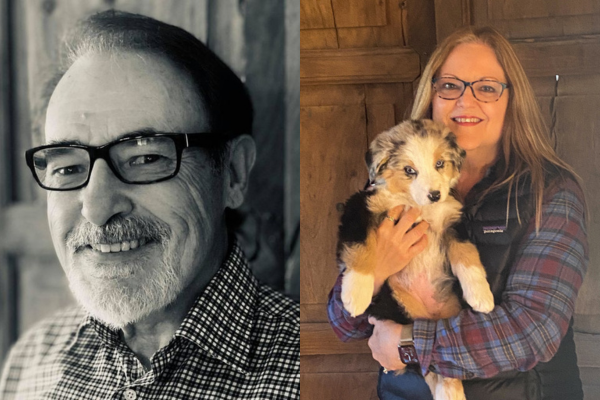 MAVENS MEET: Glenn and Kim met while commuting on a long ferry ride in the Seattle area. Each had ended their first marriage and were doing innovative work in their careers. While Glenn was working in data analytics, Kim was collaborating with principal investigators doing cancer research at the prestigious Fred Hutchinson Cancer Research Center. They found they both loved learning and that they both had used that learning to make advances in their chosen fields. They wed and stayed in that part of the country until they got tired of all the rain. Glenn decided to retire and Kim accepted the job in Alamogordo, NM.
Like Glenn, Kim could be said to be "in the right place at the right time" to make such advances in her field. However, she used her basic technical training, along with her insatiable love of learning, to learn on the job from her first assignment out of college all the way through her work in Alamogordo. "I learned a research tool, histology, from a seventy-year-old Czech professor and found I was good at it. My first job was in the anatomy unit of my university's medical school. There I learned the new discipline of immunohistochemistry. I got really good at it. I did dark room work for them as well, preparing camera-ready images for their publications. I worked there five years, then decided to branch out. Immunohistochemistry was just getting into clinical settings," she explained about her first clinical jobs in Virginia. Then she moved to the Army hospital in Tacoma, so she would be working in the same military facility as her younger brother. She met Glenn several years later in that part of Washington.
HOW THEIR CAREERS INFORMED THEIR RETIREMENT YEARS: Glenn is still fascinated by data analytics and has shared his expertise supporting the voter registration and related initiatives of the independent group, BLUECD2NM (BLUE CD2 NEW MEXICO – Blue CD2 New Mexico (bluecd2nm.com)). Kim is exploring ways to express her creativity as an artist.
"We're very different people. He loves his computer and I love my art. But we love to travel together. And we're committed to supporting candidates and legislation that help each and every one of us to thrive," she explained.
He's been analyzing voting data in this congressional district in southern New Mexico to guide voter registration and Get Out the Vote activities there. Analyzing data of any kind is his passion. In a different type of work, Glenn has been helping veterans overcome problems while assimilating into civilian life after exiting military service. He is involved in the Otero County Veterans Court. Several members of VMFC volunteer with veterans courts across New Mexico. His mentee graduated from the program in May, after two years of hard work in the program. It is work I enjoy," Glenn said. See Veterans Treatment Court set up in Otero and Lincoln counties (alamogordonews.com) to learn more about the program. Kim is also active in Blue CD2 NM, serving as Secretary. She has taken this time to renew her interest in photography, a hobby she learned to love in high school, and received a Certificate from UW in 2016. She also makes jewelry. She compares her current art creations to her work in the lab. "Immunohistochemistry is both an art and a science. It allowed me to have an artistic passion while working in the lab. The cells were beautiful, even when they were cancer. I felt I was helping the patient by helping the doctor to accurately diagnose the cancer," she said.
While they both have decided to slow down their political volunteer work, both are strong Blue CD2 NM supporters while being active in the Democratic Party of Otero County (DPOC). Glenn recently resigned as Blue CD2 NM treasurer because he was elected vice chair of the DPOC, to comply with federal requirements keeping party organizations separate from other groups working on similar causes.