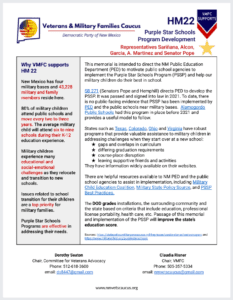 This memorial is intended to direct the NM Public Education
Department (PED) to motivate public school agencies to
implement the Purple Star Schools Program (PSSP) and help our
military children do their best in school.
SB 271 (Senators Pope and Hemphill) directs PED to develop the
PSSP. It was passed and signed into law in 2021. To date, there
is no public-facing evidence that PSSP has been implemented by
PED and the public schools near military bases. Alamogordo
Public Schools had this program in place before 2021 and
provides a useful model to follow.
VMFC strongly supports Purple Star Schools Program for our military families and their children.