by Sue Wolinsky, Family Member, Army IL National Guard
No Stranger to the Danger of Serving in the Military
A practical kind of guy; thoughtful too… takes things in stride… and seems to always try to do the right thing: from his first day in boot camp, to his heroic last day in Cambodia, and on to today, as he fights to improve access to VA medical care for veterans in southern New Mexico (NM). That's Master Sgt. Mark Praught (US Army, Ret.).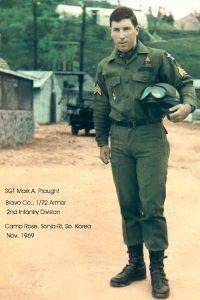 "I was planning to go to college in the fall of 1968, right after high school, but my parents couldn't afford to send me away to college. I got my Draft Notice in May, after I'd already been accepted to the local junior college. But the Draft Board didn't care. So, I enlisted rather than being drafted," he said.  "I was disappointed but I went in with the attitude to 'give it all I got'! That's what I did, for 37-1/2 years," he reminisced. 
ACTIVE DUTY: His extensive military training, both stateside and overseas, led to qualification as an armor crewman (MOS 11E) during his two-and-a-half years on active duty and then he served in the Special Forces while in the Reserves. About half of his active duty time was spent in Vietnam, Cambodia, Okinawa, and in the Demilitarized Zone (DMZ) in South Korea. He was awarded 11 commendations for his service in Vietnam and Cambodia, including a Purple Heart, two Bronze Stars, and an Air Medal. He was a tank commander in the 11th Armored Cavalry Regiment, the largest unit in Vietnam at that time, and the MOS 11E had the highest percentage (27%) of casualties. He had become no stranger to the danger of serving in the military.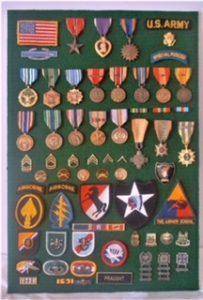 His service in Cambodia is where he lived under fire day in and day out. It turns out he received the Purple Heart and Bronze Star with V for valor for his bravery on that final day that US troops advanced in Cambodia, although he didn't find out until weeks later. He was still a tank commander in Cambodia when his unit was ambushed on May 14, 1970. He was an E5, Sergeant, at the time.
His tank took the first rocket in the ambush and he suffered burns on his body from the red-hot steel spall bouncing around in the tank, but his injury was not as severe as what the rest of his unit suffered.
"It was gruesome," he said, "two killed, nine others wounded, driver peppered badly, only two not wounded. I was #10 on the evacuation list but wasn't evacuated until the end of day. Only two of six men on my tank that day were not wounded." 
Several months later, he was at the end of a line of soldiers who were to be awarded commendations. He was to receive the Purple Heart. MSgt Praught (Ret.) reiterated the events of that tragic day in response to the Regimental Deputy Commander's questions when he walked up to the podium. He said he was tank commander and, Lt. Williams, his platoon leader, verified the details right there at the podium. "He explained that I gave 'compressing fire,' continuing to fight after being wounded. The Colonel then gave me two other awards on the spot, saying that I was the last one out from the furthest point in-country on the last day US troops left Cambodia.  While wounded, I was firing from the back of my tank until the Cobras came in and then some artillery fire. Then Phantoms napalmed the whole area. That was the end of the US military in Cambodia. I was lucky I survived the whole thing," he said.  
He, along with many other NCOs, left active duty after returning stateside. "My commander asked me to stay in. I told him that I was a reluctant warrior for a long time. I thought if I didn't do it, who was going to do it, but the Army tried to kill me when I was in the DMZ, then again in Vietnam and finally in Cambodia. I'm done."
Reflecting on that experience over 50 years later, he said, "I can even remember how it smelled. The smell of death and destruction never leaves you," he said, noting that seeing the atrocities of Russia's war on Ukraine in the media has brought all this back. "I've had to stop watching it," he concluded. (Support to veterans affected by the war in Ukraine is available through the Provider Guide to Addressing Veterans' Reactions to Current Events in Ukraine – Click HERE).
Still reflecting, he added, "in Vietnam and Cambodia I was 21, as were most guys I was responsible for, and I had the awful realization that you can die very easily. This turns boys into men quickly. Being someone who had graduated high school in 1967, I saw the worst part of the war. I realized then that it was okay to be scared, because if you were not scared, then you weren't a normal human being. Learning to control fear is a difficult thing to do."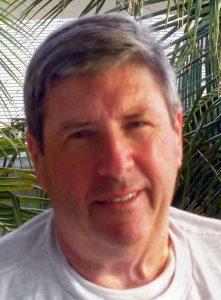 THE RESERVES: In 1971 he entered civilian life for a very short time. While relaxing at a restaurant-bar near a National Guard Reserve Armory in Florida, he was "invited" by some reservists into their unit. "I felt it was safe enough to rejoin. Going into the National Guard Reserves was like going into therapy. It felt like being back in the platoon," he said. "Then I had 10 years in, which was halfway to retirement. I enjoyed the guys I served with, who wanted to be there, so I got into it and stayed," working for ATT most of that time.
His assignments included light weapons, parachutist (landing in gator-infested swamps in the dark of night), then Special Forces. He became a Green Beret. In 1991, his unit was called up to Ft. Bragg but didn't get assigned to the Persian Gulf.  Many of his fellow reservists were anxious to go to war.  "Reflecting back on my years in Southeast Asia, I was able to tell these guys that they really did not want that experience."
The last time he was called up was four days after 9/11. He served 10 months at MacDill AFB, US Special Ops Command Headquarters. When reservists asked where he was serving, he answered (not so jokingly), "Ft. Lauderdale!"
MSgt  (Ret.) Praught was diagnosed with leukemia in 2008, he's managed to stay at Stage 1 since then, and he retired from the Reserves in 2009. He visited Alamogordo, NM, seven times before he and Jan, his future wife, moved there in 2014 to get married.  Their wedding reception was held at the home of VMF Caucus CD2 Vice-Chair Jeff Swanson. 
His choice of Alamogordo is the result of his practical thinking. "Alamogordo is safe for so many reasons," he said.  "It's not near an interstate, so crime is not bad. The cost of living here is much cheaper than it was in Florida. It's near an Air Force Base, which is much better than being near an Army base. And it feels safe."
GIVING BACK. He is the chair of the Otero County Planning Commission, focusing on getting roads fixed and ensuring that property owners get maximum value for their property. "Chaparral is the most active part of Otero County (near El Paso). Texans have been moving there because taxes in New Mexico are lower than in Texas.  We have a lot of work to do."
He also serves on the Veterans Leadership Council of Otero and Lincoln Counties. They meet monthly, seeking better medical facilities for veterans in that part of the state. This community service feeds his zeal to help veterans. MSgt Praught raised this issue during the VMF Caucus All Hands meeting in March. While there has been much media attention in NM about the VA's proposed closure of four VA clinics in northern New Mexico and transferring PTSD services out of NM, there has been scant media attention focused on the difficulties veterans in southern NM face when they need medical care. 
He is also a member of the Combat Veterans Motorcycle Association. Learn more about it – Click HERE.  
Both Mark and Jan, who is also a veteran, are involved in the Democratic Party in Otero County where she serves as the first vice-chair. He also publicly acknowledged Sen. Heinrich when he ran for re-election; Mark posted a pro-Heinrich video on Facebook. 
"I'm a triple dipper," he said, referring to his military retirement benefits, "so I can afford to give back to my community."
A practical, thoughtful guy who always tries to do the right thing, don't you think?
The Longest Day
Sometimes the trauma of extensive media coverage of a current war can awaken memories of past traumatic war experiences. MSgt Praught is but one veteran experiencing this. Both the relentless coverage of the war in Ukraine and the memories that surfaced while preparing for this interview have caused him to resurrect the horrors of his "longest day," the day he and the rest of the US military left Cambodia on May 14, 1970. For the first time in 52 years, he was now able to face those ghosts, bringing some order to the events of that horrific day and forcing emotional resolution of those memories. To read MSgt Praught's own description of this process, please read his very personal essay, "The Longest Day", which is available on the VMF Caucus website. Please be aware that the detailed descriptions in his essay could trigger such memories of past war trauma that other veterans may have experienced. The VMF Caucus thanks MSgt Praught for sharing his very private personal war in dealing with these memories.