One Marine's Wartime Experience:
There is No Safe Haven behind the Front Lines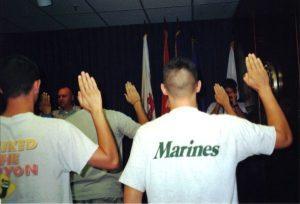 If you want to believe how the media portrays US military service members, you would think that all are deployed and all see action. Well, that's just not the case, according to Edward Lovato, 1st Lt USMC, who served more than 13 years on active duty in the enlisted and officer ranks. The 2000 graduate of Rio Rancho High School enlisted and was in boot camp two weeks after graduation. His first MOS was as a field radio operator.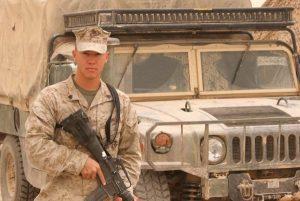 "We saw indirect combat. First, in 2005, I was deployed to Taqqadum Air Base in Al Anbar Province, Iraq with the 3rd Marine Air Wing. It was a hot military location," he recalled. We dealt with occasional rocket and mortar attacks even though we were in the Comms Squadron. We maintained the comms network with all of the other air bases, providing critical infrastructure such as radios and data systems."
What Percentage of Soldiers See Combat?
To better understand the number of troops that see enemy action, take a look at this short article for what may be a surprising answer – click HERE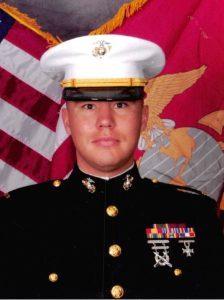 He got picked up for a commissioning opportunity and returned home to earn his bachelor's degree from the University of New Mexico (UNM), while serving in the Navy ROTC there. He later earned his law degree from UNM. His experience working with military legal officers during his first tour of duty got him thinking about going to law school. He studied for his Law School Admissions Test (LSAT) while in Afghanistan.
Commissioned Officer
In 2010, he re-entered active duty as a lieutenant with a new MOS, Air Support Control Officer. In 2012, he was sent to Helmand Province, Afghanistan with the 3rd Marine Air Wing. "I was there for half the year. We were 'the hub', in the Direct Air Support Center; Regimental Combat Team (RCT) 7. This was the highest HQ unit there. We handled the big picture. We handled daily combat ops, integrating all aviation assets with the ground units. We did high-level aviation command and control," he said. "I worked the day shift, when the enemy was most active. It was often a chaotic and stressful environment. We handled all medical evacuation and close air support requests that came in from the front lines ensuring they got the support they needed."
No Safe Haven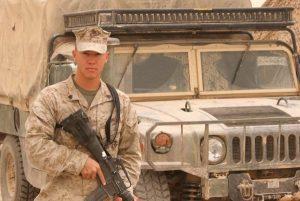 "We survived the infamous Camp Bastion Attack that killed 2 Marines and wounded several more. We lost 6 AV-8B Harrier jets and our fuel pits were destroyed." Lovato recalled some of the details: "They broke in at sunset and we didn't get the situation under control until around 2:00 or 3:00 in the morning. We had to make sure our helicopters could eventually get airborne to kill the infiltrators. They got two of our Marines," he said slowly.
As was reported in the media at that time, "On Sept. 14, 2012, 15 heavily armed Taliban fighters disguised in U.S. Army uniforms infiltrated Camp Bastion, a large Marine Corps and British forces base and Afghan National Army training complex. Camp Bastion could accommodate some 30,000 people, so when the Taliban split into three teams to wreak havoc on the base's interior, things could have gone very badly for the Marines." The full article is titled, The Raid on Camp Bastion was a Bloody First for some Marine Aviators – click HERE to read it. The article provides a detailed accounting of the attack and forced military retirements (the first since the Vietnam War) that ensued.
"That was the worst experience I had in Afghanistan," he said. "I'd been close several times. Besides the Camp Bastion Attack, I'd also had several hairy rides in the back of aircraft. But I never had to fire my weapon, thankfully."
Transitioning out of the USMC
He finished out his military service at Camp Pendleton in 2014. After returning stateside, his girlfriend met him in California, they married and started a family. "My buddies were going all over the world," he recalled. "And my life was changing. President Obama was in office. They were downsizing the military. They offered two-year officers an opportunity to get out early. So I left with six months left on my contract. We moved back home and had our baby here." They now have an eight-year-old daughter and a six-year-old son, with a new baby due in February.
Lovato continues to serve his community in his civilian life. He is the owner of a small business in Rio Rancho, Lovato Law, P.C. He focuses on estate planning, probate, trust administration and elder law issues. He has volunteered as a Rio Rancho Planning and Zoning Commissioner and serves on a non-profit board: AMIKids Sandoval, where he has served as chair. He is an active member of the VMF Caucus, serving as Legal Advisor to the Executive Committee.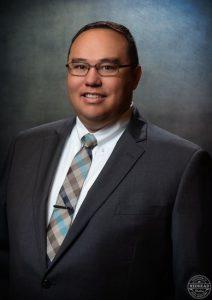 The son of a long-time state worker, mostly in the Department of Corrections, he is aware of the need to be politically astute and to act on convictions. He has also been active in the Democratic Party as a member of the State Central Committee.
Victory in the Primary Election
He recently won the Democratic Primary Election for the Sandoval County Probate Judgeship; he is currently unopposed in the upcoming General Election. "I looked to see where I could make the biggest impact. That's why I chose to run for probate judge. I have the expertise and experience. I've always had a calling to do public service. That was one of the reasons I joined the military two weeks out of high school. And now, I think I could make some reforms that are needed in Sandoval County Probate Court. I want to set a new standard for customer service, responsiveness, and providing information to the public. This will definitely help alleviate a lot of the problems in workload," he said.