The Navy Vet Who Didn't Follow His Own Advice
He spent 26 years in the US Navy and didn't follow his own advice: "Never Again Volunteer Yourself!" This is US Navy Senior Chief (ret.) Chris Sedillo's description for NAVY, if you read it as an acronym. 
"I volunteered for everything," the native of Albuquerque reflected, "for schools, for getting sent to Iraq, for transporting chemical retrograde from Germany to Johnson Atoll.  While I was stationed at Joint Communication Support Element and assigned to the Quick Reaction Company (a joint duty assignment) some Navy jump billets opened up, I quickly volunteered for jump school and off to Ft. Benning, GA, I went. It was an elite thing to do — to be a paratrooper.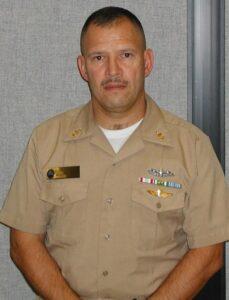 "While stationed in London I again volunteered to deploy aboard the SS Gopher State (T-ACS 4) as part of Operation "Steel Box" to transport chemical munitions from the Federal Republic of Germany to Johnston Atoll in the South Pacific. It was a chance to do something different and to travel. When I was Officer-in-Charge of the Military Detachment (MILDET) onboard the USNS Sioux (T-ATF 171), we received a faint, almost inaudible, call of Mayday!  Mayday!
"As OIC, I reported the distress signal to the ship's Master, and the USNS Sioux rescued a stranded couple from a sinking vessel. Once again, the USNS Sioux was summoned for a no-notice call for the search, rescue, and recovery of Alaskan Airlines Flight 261 after it crashed. I volunteered and was selected to augment JTF-67 on a real-world mission to Vietnam for 60 days for the search and recovery of POW/MIA remains. Because of all this volunteering, I've been to almost every port in every country. I learned different cultures, different philosophies, and a host of different religions. I learned that there are great people everywhere." 
He signed up for the Navy in the delayed entry program while completing his fourth year in Marine Corps JROTC at Rio Grande High School in Albuquerque. "That was my elective," he said.  "I stuck with it for four years. I got to take trips to California every year. It gave me my foundation where they taught discipline, and how to set and meet goals. I was raised by a single mom and this played an important role in my life. It was a good learning experience."
That started his 26-year adventure volunteering for every school and assignment he could find, earning over 20 ribbons, awards, and commendations over his naval career.  He served aboard the following ships: USS Ramsey (FFG-2), when the USS Ramsey went into the yards, he volunteered for another Deployment with COMDESRON-5 for an eight-month deployment onboard the USS Ranger (CV-61), USS Jarrett (FFG-33), USS Stethem (DDG-63) and USNS Sioux (T-ATF 171).
His duty assignments included radioman "A" school, communications, parachutist, chemical munitions transport, ocean search-and-rescue, locating POW/MIA remains from the Vietnam era, financial specialist, cryptologist and comms specialist for an explosive ordnance disposal unit, Platoon Leader, Command Master Chief, and Leading Chief Petty Officer.
His duty stations included numerous locations in the US: San Diego, Tampa, Long Beach, Oklahoma City, O'ahu, Coronado. Internationally he served in: Central America, the Western Pacific, the Indian Ocean, Panama, Italy, England, Germany, the Johnston Atoll, Southwest Asia, Guam, Saipan, Singapore, Thailand, Bahrain, Abu Dhabi, UAE, Freemantle (Australia), Iraq.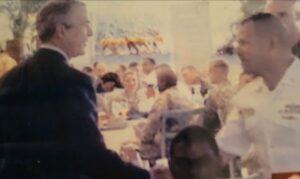 His last assignment was Leading Chief Petty Officer for Pacific Regional Network Operation Center. He was a strong advocate for command and community service. He participated in all CPO functions, volunteered for the elementary school Read Aloud Program, organized the 65th Anniversary Commemoration of the attack on Pearl Harbor, and was honored to attend a Presidential Breakfast with President George W. Bush and his staff.
And in the spirit of keeping his military PT applicable during this assignment, he volunteered for – and finished — the 26.4-mile Honolulu Marathon (at age 43).
After he returned to civilian life, Sedillo took numerous job-certification classes, became a primary caregiver for members of his family, ran for Albuquerque City Council, and bought a house in southwest Albuquerque that he plans to live in for the rest of his life. After losing the city council race, he poured his energy into myriad local military-related, religious, and civic organizations. Along with the American Legion, he belongs for the American Veterans for Equal Rights (AVER) Bataan and National Chapters, is a board member for the Honor Flight of Northern NM, and is a member of the Knights of the Ascension, Ministry of Hope at Church of the Ascension, DPNM State Central Committee, Westgate Neighborhood Association, United Veterans Council of Greater Albuquerque, Moose Lodge, Harley Davison Owners Group, Trench Rats, and, of course, the VMF Caucus. He'd love to volunteer more, but he's hoping to have time for some of his avocations – traveling for vacation, motorcycle riding, horse-back riding, and raising chickens.
Navy Senior Chief (ret.) Chris Sedillo Honored for
Performing in 50 Honor Guard Functions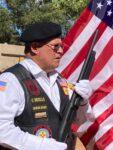 With a quiet reverence for those who served and an unwavering dedication to honoring our country during public gatherings, US Navy Senior Chief (ret.) Chris Sedillo has participated in hundreds of military honor guard functions.  This includes 150 performed while he was on active duty (in 3-1/2 years) and 50 more in civilian life since he took over as Honor Guard Commander in June 2021, for American Legion Post 13 in Albuquerque.
He joined the Blue Warrior Honor Guard at Tinker AFB, where he was part of an elite team of Navy and Air Force personnel providing military honors in the highest traditions at funerals, presentation of the flag to next of kin, forming a saber arch for dignitaries, and community events such as Fourth of July parades.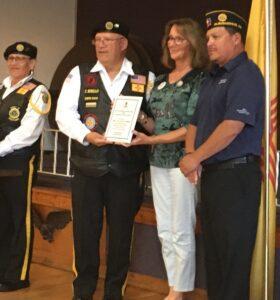 Sedillo was honored on September 19 for these 50 Honor Guard functions since he became a civilian. Claudia Risner, Chair, presented him with the commemorative plaque from the VMFC. It was the caucus' first Honor Guard commemoration.
Why, you might ask, has he performed so many Honor Guard functions and why does he continue? "I try to put myself in the position of losing someone, and I do it with empathy. I do it to honor their loved one after they passed," he said.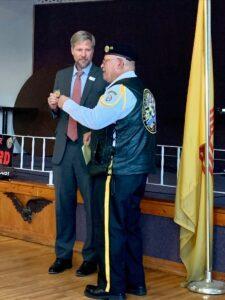 In the past two years, Sedillo doubled the number of American Legion Post 13 Honor Guard volunteers from 10 to 20, with a hard-sell recruitment effort he tirelessly shared with the many civic and military-service related organizations he supports. He is the Honor Guard Commander and Chaplain for American Legion Post 13, as well as a member of American Legion Riders. "Now that I'm in charge, I get calls from every funeral home, I have to do everything. Some months, we do three to four Honor Guard functions; some months, we do 12-15," he said.  His American Legion Post 13 Honor Guard team recently took first place for both medium and large Honor Guard groups at NM Department of Veterans Services (DVS) 13th annual fall training conference and competition (sponsored by AARP).
"I will never forget the first Honor Guard function I did when I was on active duty," he said.  "I presented the American flag to the eight-year-old daughter of one of the 168 persons killed in the Oklahoma City bombing," Sedillo recalled. "She had tears running down her cheeks. That was the hardest time I ever presented the flag. I'll never forget her. I was part of the Color Guard that participated in the Fourth of July parade and the raising of the national flag, which officially ended the mourning period of the Oklahoma City bombing of the Alfred P. Murrah building."
Sedillo also participates in The Forgotten Heroes program, which is for veterans who have served with honor, but do not have a family member to claim their body. So every September these veterans are escorted from Strong-Thorne Funeral Home in Albuquerque to the Santa Fe National Cemetery. There is a police escort that also includes American Legion Riders, Patriot Guard and other motorcyclists who escort our veterans' remains.  A special ceremony is held at Santa Fe National Cemetery including a eulogy and full military honors for these veterans. He has participated for 5 years including this year, on 29 September, during which the cremated remains of 29 military veterans (3 women, 26 men) were buried.
The Forgotten Heroes Program
is a unique collaboration between the NMDVS, Bernalillo County, Santa Fe National Cemetery, and the Director's Choice Mortuary Services of Albuquerque. This joint effort ensures that no veteran is alone at the end, and that he or she receives a funeral with the military honors available to honorably discharged veterans.
To view the 8-min video of the 2021 burial of the unclaimed
cremated remains of 22 veterans –
Click HERE