by Sue Wolinsky, Family Member, Army IL National Guard
Living "TIKKUN OLAM" (improving the world)
We all make decisions in life. To 'float in life' for awhile. To prepare for a career. To enter the military. To get married or divorced. To have children. Or not. These decisions shape our lives, often in ways we don't anticipate when we make them.
"That's where Tikkun Olam comes in, meaning that we all have an obligation to make the world a better place," explained Bob Carroll, a Vietnam War Era Marine veteran (E-4) and an active member of the Veterans and Military Families Caucus (VMFC) who had lived in Roswell for ~27 years before he and his wife moved to Albuquerque in 2020.
"In Jewish teachings, Tikkun Olam is any activity that improves the world, bringing it closer to the harmonious state for which it was created…. All human activities are opportunities to fulfill this mission, and every human being can be involved in tikkun olam—child or adult, student or entrepreneur, industrialist or artist, caregiver or salesperson, political activist or environmentalist, or just another one of us struggling to keep afloat," according to "What Is Tikkun Olam? – What does Tikkun Olam mean, who came up with it, and how do I do it?" –
Chabad.org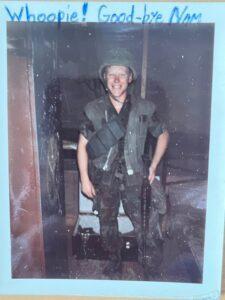 MILITARY DECISIONS. He entered the Marines without the blessing of his father, a Staff Judge Advocate and colonel in the US Air Force. "I was one of five children in a military family. I was born in Japan and lived in Virginia, Germany, as well as Wichita FallsTX and Omaha NE. We finally made a home in Texas," he said. "I was influenced by Marine stories in Vietnam, and I was looking for adventure. I didn't want to go to college right then so I enlisted in the Marines as soon as I turned 18. My dad was not happy when I enlisted. I wanted to go to Vietnam. That was my generation's war. And, as life would have it (though I didn't know it at the time), my wife, Leslie Lawner, ended up being an anti-war protester. He never found what he was expecting during his two-year commitment to the Marines, from 1969 to 1970. After boot camp in San Diego, he was trained in infantry and communications. He left for Vietnam in October as a field radio operator. He spent four months there in a comms battalion before he and other members of the unit were withdrawn to Okinawa. "They never told us why we left," he said. While in Vietnam he did guard duty, listening posts, patrols and filled a lot of sandbags. "I never saw any real combat," he said, a little disappointed. From Okinawa he was assigned to a floating infantry battalion nearby for 3 months, then got more training in the Philippines before he completed his 12-month tour overseas. He was a two-year enlistee but got out a few months early after returning from overseas.

"I've had the opportunity to give back, to make life better, somehow, so many times," he said, describing how his two years in the Marines shaped his perspective, his understanding of people, people who were different from him. "I learned so much back then that shaped major decisions in my life. "I was very much a middle-class kid. Being in the Marines broadened my horizon," he reflected. "I really got to see the military from a lot of perspectives. Being an enlisted man was very different from being an officer," he quickly learned.

"I found it to be very useful in my life, to understand where people were coming from – then, when I was in college and law school, and now. I was able to see when I got in college that the college kids weren't the same as my Marine buddies. I resented the college draft deferment. Why were kids in college getting exempted from the draft? You have to think about it…who was getting drafted and who was going to Vietnam and who was getting killed. It bothered me a lot," he said. He was glad that he shared these thoughts with his dad before he died.
DECISIONS IN CIVILIAN LIFE. After he got out of the Marines, Bob went to college and law school on the GI Bill. He became a lawyer in the oil and gas industry in El Paso and in Houston.
He met his wife there. She was a regulatory lawyer for a large interstate natural gas pipeline company.
"These were major decisions. We decided to start a family in Houston, and first our daughter was born. A few years later our son was born with cerebral palsy as a result of a stroke he suffered at birth. We became very active in the disability community and served as board members of a private pre-school for children with disabilities. We decided that our careers were not allowing us enough time to devote to our children, so we made the determination to downsize our lives. I got out of the legal business after 17 years and was able to transfer to the Roswell office of Transwestern Pipeline Company in Roswell in a non-legal capacity. Leslie stayed a lawyer but with reduced hours. Leslie was raised in New York City and had never been to Roswell until we moved there, so she had some culture shock. However, we both liked
Roswell quite a bit. You could accomplish so much. When you're in a big city, you can't affect things so much," he said reflecting on all they accomplished in Roswell.
TIKKUN OLAM IN ROSWELL. He and Leslie along with a handful of other families started a therapeutic horseback riding program in Roswell for kids with disabilities. "Ironically, our son wasn't that interested in horseback riding. He liked playing basketball more. Our daughter liked riding horses," he said. "Leslie also coached other parents of special needs kids on how to get
the services their kids needed."
"We got very interested in NM politics. Our inspiration in Roswell was when Obama ran for office. We had Obama campaign staff staying in our house for 4-5 months. We opened our doors to young campaign workers again when Xochitl Torres Small ran and won the CD-2 seat in 2018," he recollected.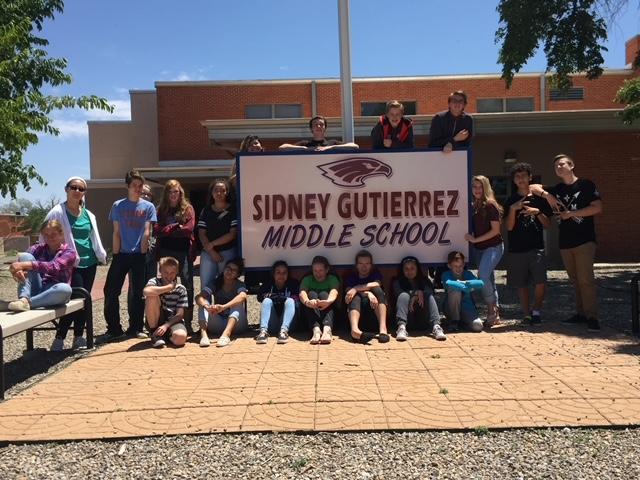 When Transwestern sold its natural gas gathering facilities, he and Leslie decided to stay planted in Roswell. Bob and a friend formed a company to produce and sell landfill gas that was otherwise being wastefully flared from large landfills in Texas and Louisiana. They sold the company more than 20 years later.
In the meantime, Bob and Leslie still had more Tikkun Olam to do in Roswell. "With a friend (their kids' soccer coach who worked in the computer industry), we started the Sidney Gutierrez Charter (Middle) School. Leslie left her legal career and became the school's language arts and social studies teacher. We wanted to create an environment that provided an excellent classical education and opportunities for all students. It was a big deal in our lives," he said. "We decided early on that the school would be a heavy participant in the Science Olympiad competition."
Joe Andreis, who co-founded the school with Bob, currently serves as school leader, according to the school's website, excellentschoolsnm.org/our-investments/sidney-gutierrez-schools.
The school was named for the Albuquerque native Col. Sidney Gutierrez, who was a test pilot, graduate of the USAF Academy, and astronaut. He allowed the school to use his name and he gave presentations to parents and kids on his two trips to space over the years. Colonel Gutierrez also met the students for dinner in Socorro the evening before most competitions.
"Charter schools were just getting started in NM. We taught ourselves how to start a school and set goals (we wanted a small school that was strong on technology). In 2001, we started the school with 17 students and a maximum limit of 60 kids in 6, 7, 8 th grades." he said. Since then, the school received approval to expand to include K-5 in 2018. It now serves 133 students. It has historically been one of the best performing schools in the state, according to its website. "In 2021, US News & World Report said we were the best middle school in the state," Bob said, beaming. Leslie was once named as the charter school teacher of the year and later as the New Mexico history teacher of the year.
"Leslie also created a program along with three other teachers to show NM teachers how to teach students about the Holocaust, motivated by her experience growing up in the Bronx and in Queens, New York City. She continued that successful program even after we moved to Albuquerque in 2020. She holds weeklong seminars for teachers on how to teach the Holocaust and other genocides and how to recognize a society's gradual descent into genocide. She wanted teachers to be able to teach it safely to children, he said. "Now Leslie is trying to get a bill passed to include the holocaust and other genocides as a required subject in NM schools."
House Bill 111 was introduced by Rep. Herndon in this session. It requires an age and grade-appropriate lesson on the Holocaust for students in seventh through twelfth grade.
Their kids grew up in Roswell and they both attended the Sidney Gutierrez Middle School. Their son graduated from college and was hired by Kirtland AFB after he had two summer DOD internships. "He had one good arm and played tennis; he was pretty good. He ran cross country even with his one bad leg, and he was an excellent fencer. I am so proud of him," Bob bragged.
Their daughter graduated from Roswell High School as co-valedictorian, went to college at Washington U in St. Louis, then UNM medical school. She met her husband, from Las Cruces, when they were in medical school and they both did their medical residencies in Denver. Both children moved to Albuquerque. Bob sold his company, Leslie retired from teaching and the entire family now lives in Albuquerque. They have a two-year-old grandson here.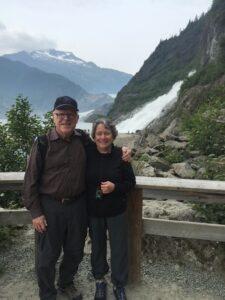 POLITICS IN ALBUQUERQUE. "I continued to be interested in Democratic politics when we moved," he said. "I worked hard to elect Melanie Stansbury as a state legislator and then when she ran for Congress. He engaged with local Democratic organizers, particularly the women who had recruited Melanie Stansbury to run for political office. They (Democrats in Albuquerque) were so much better organized than the Democrats in Roswell. I have been a good foot soldier."
"Then Pamelya Herndon was appointed to fill Melanie's state seat. She went to the same law school, was one year behind me. I helped get her elected when she ran. Then we got redistricted in 2020 and I supported Meredith Dixon. I kept getting more and more involved," Bob said. "I heard about the VMFC when we moved here. It is such a wonderful organization. So now I'm involved in all our veterans advocacy work and I am proud of all the great work we do."
Still living the principle of Tikkun Olam