by Sue Wolinsky, Family Member, Army IL National Guard
 "Leading. Learning. Caring. Convicting."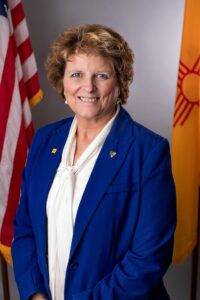 She sits at her desk, the District Attorney's (DA) desk in the old/original 13th Judicial Courthouse in the State of New Mexico, petting a medium-sized dog; not mindlessly, but purposefully, receiving the love and support from the dog in her lap. The mutuality of the interaction shows. DA Barbara Romo (Former Capt., US Army) has a dog-friendly office. Three employees regularly bring their dogs to the office. The small wire gates at the top of the stairs in the converted historic building in Bernalillo bespeak their presence.
THE CARING D.A.: Not only that, she made the 13th Judicial Court room a more friendly place for witnesses and victims after she was sworn in January 2021. She found a scholarship to train a courthouse facility support dog through Assistance Dogs of the West. (Click here to learn more about ASSISTANCE DOGS OF THE WEST.)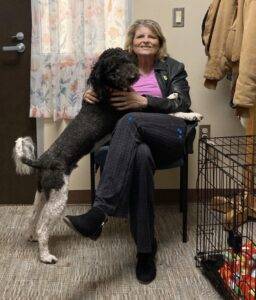 "The dog picks the handler(s)," she explained. Cowboy, now two years old, is trained to provide comfort and emotional support for witnesses and victims, especially those who are children. "It's always been a dream of mine to do this," she says, stroking his neck. "My whole career, I specialized in crimes against children. Being successful depends on making the child feel comfortable, even when confronting their abuser in court. The dog brings their whole demeanor down, makes them relaxed. They relax and they're able to tell their story. If a kid is too scared to talk, the jury won't hear the truth. He helps adults to calm down the same way. So having the dog in the office and in court is a no brainer. He brings everybody's stress level down," she said. "(I'm) Taking care of some of our most vulnerable – children and animals."
Caring for the children in New Mexico has been her trademark — the go-to expert on children's cases for years. "I don't know why I've always had a passion for prosecuting crimes against children. I was adopted when I was five, but I never had any really bad things happen to me as a kid. My sisters had problems resulting from mom's first husband. I think I feel an affinity with them, even though I didn't suffer the abuse that so many children experience, this affinity was always there. It grips my heart," she says with great feeling.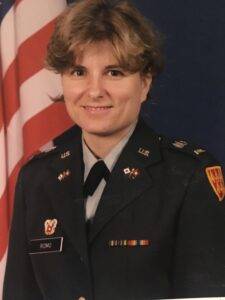 The former US Army captain earned her reputation over 24 years in DA's offices of the 1st and 7th Judicial Districts before coming to the 13th District. She serves on 2 NM Supreme Court Rules Committees and has received many awards from the NM District Attorneys Association and the Prosecutors Section of the NM Bar Association.
Barbara has prosecuted every type of felony and has tried over 100 cases before juries specializing in crimes against children, sexual assault, and homicides. She has worked for the New Mexico Victim's Rights Project as a victims' rights attorney, providing legal representation to crime victims as well as providing training and assistance to prosecutors, law enforcement, and other agencies who assist victims of crime. "Every child abuse, sexual assault and homicide case has a victim. You can't be too close to the case, but you have to have a passion for what the victims feel," she reflected. "Burnout is a big issue in this profession. My own personal experience is that usually the most dedicated attorneys are the first to burn out. This work will always be here. You only have one family and (maybe) one life. Work-life balance is key," she said.
Her own work-life balance got off kilter when she worked out of Santa Fe. "Even though a few judge-friends and colleagues asked me if I was doing okay, I didn't realize the emotional and physical toll on me from handling primarily homicides and child abuse cases. The burden was incredible. I was upset after losing a trial in a small town in northern NM. I drank before the long drive home. It took a DUI, and two years teaching and working on behalf of crime victims at a nonprofit group for me to rebalance my life," the well-known prosecutor said. "That happened for a reason. At that point in my career, I was well known. It was front page news. The good news is that it wasn't hard for me to get a job when I wanted to go back to being a prosecuting attorney. I'd figured out how to survive." And survive she did after getting back in the saddle of the NM District Attorney system.
FINDING HER PATH: The eventual honors graduate of the University of Nebraska Law School doubted her own abilities to achieve high enough grades to get scholarships to college and eventually law school; to score high enough on the Army's Armed Services Vocational Aptitude Battery (ASVAB) to get a decent MOS; and to succeed in the male-dominated military hierarchy. Like many working women who came out of the 1960's, she patchworked an impressive career from opportunities she sought while doubting her own abilities. She was yet unaware of the combined strength of her own tenancy, her brains, her concern for the vulnerable, and her unswerving common sense. I guess she hadn't heard Malcolm S. Forbes (of Forbes magazine and real estate success) say, "Too many people overvalue what they are not and undervalue what they are." Her career would eventually prove her value.
While earning a bachelor's degree in journalism at the University of Nebraska and working at a journalism internship, she enlisted in the Nebraska Army National Guard. She chose the Guard because she knew she would need money for graduate school later; they paid the highest education benefit (75% versus the 50% paid by the Reserves). She used the money later to fund her law degree."

An astute learner, she realized that officers in her MASH-like unit were earning a lot more than she was for weekend and summer training. A few years after enlisting, she joined the ROTC and was in the Simultaneous Membership Program at the University of Nebraska. This put her on a trajectory to become an officer, earning a higher salary while she was earning that all-important education benefit.

She chose her MOS because of her high ASVAB scores. "I did better than I thought I would," she admitted. She became the only Army mental health specialist in the state as she started building an impressive military run. She had already earned her commission when she married her husband (Onorio) of 36 years, a decorated Army retiree. She trained stateside at Ft. Gordon in Georgia and Ft. Sill in Oklahoma before starting her active duty tour in Germany as platoon leader of Delta Company, 11th Signal Battalion, a combat support unit. While there, she had two children. "I served a good deal of my time as a pregnant platoon leader, wearing maternity BDUs while performing all my duties," she recalled. "I was supposed to go airborne but never got the chance because I was pregnant.
LEARNING TO LEAD: She served a total of three years in the Army National Guard, five years active duty as a Regular Army Officer, followed by eight years in the Army Reserve. She credits the Army for teaching her so many things that have informed her professional and personal life:
"Above all – I learned leadership. I learned to manage and lead a platoon of very diverse individuals. And I learned acceptance. Everyone worked together to perform a mission…. I embraced the opportunity to get to know people from all walks of life. I formed lifetime bonds of friendship with many of those with whom I served."

"I learned to succeed in a male-dominated Army, I would have to be twice as skilled and work three times as hard as my male counterparts to earn their respect. I was fortunate to have my husband, a retired career infantry soldier, to rely on for support and guidance."

"I pushed myself further than I thought possible in so many ways."

"I learned the meaning of self-sacrifice….I was 8 months pregnant with my son when Desert Storm broke out. Our unit immediately went on alert. Eventually several squads from my platoon were deployed. I remember standing with them in the motor pool – wondering, hoping, praying that I had given them the proper training and guidance needed to survive. It was a very sobering thought. Luckily, all of my troops returned unharmed."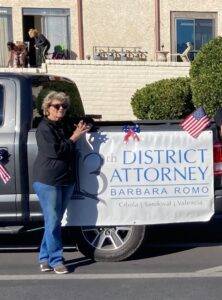 TRANSITION: She left the Army in Georgia in September 1992. She finally took her husband's advice and applied to several law schools. "Even after my time in the military, I still didn't think I was smart enough to go to law school," she modestly said. She eventually graduated with honors from the University of Nebraska, her alma mater. "They didn't give me a scholarship," she laughed, noting that they later offered her daughter, Xochitl, a scholarship. (Xochitl is currently a practicing corporate attorney in Japan.) She explains why they chose to move to Nebraska, "We felt it was important for our children to meet their family in Nebraska. We knew we wouldn't be there forever." While in law school, she worked as a law clerk in the Nebraska Attorney General's office.
After graduation from law school, they moved to New Mexico in 1995 and currently reside in Rio Rancho in Sandoval County. In addition to her DA responsibilities, she and their son (Cuautemoc) share home care responsibilities for her husband, who had a stroke and suffers from dementia. Her son quit his long-haul driving job to take care of Onorio. "We try to have one of us always there. I'm lucky that I have my son and his girlfriend to help.
"I've been through a lot of stuff in my life. I feel everything I have been through prepared me for this job," she said. She lives up to this philosophy espoused by Amy Tenney, a fellow female attorney who worked with nonprofits and strove to reduce the stress of those who suffered trauma:
"The world needs more strong women – women who will lift and build others, who will love and be loved, women live bravely, both tender and fierce, women of indomitable will." Amy Tenney
WHAT'S NEXT?: "I will run again. There's so much still left to do. For one, I want to help my fellow veterans. I want to set up a veterans court for the 13th Judicial District," she explained.
Veterans courts have been established in 3 judicial districts in New Mexico and are located in Albuquerque, Alamogordo, and Las Cruces. The program supports veterans who have substance abuse-related criminal offenses after leaving the military. CLICK HERE TO FIND OUT MORE ABOUT THE VETERANS COURT INTITIATIVE .
The ten-square-mile (population total around 250,000) 13th Judicial District includes three counties: along with Sandoval (where her main office is located), there's Cibola and Valencia counties. "I've done the leg work and we have the core of the team already committed to the project. The main court will probably be located in Valencia County, with vets from the other counties participating via Zoom for meetings and hearings. We need to do this," she said with conviction.