Serving
New Mexico's
Veterans
Committed To Serving Those Who Served
The VMF Caucus organized a fabulous car show to support the awesome DPBC September FEST in South Valley on Sunday, 18 September. The event was a spectacular success in showcasing our hard-working Dem candidates and motivating citizens to VOTE in the midterms! All in the setting of the historic Gutierrez-Hubbell House with hot muscle cars and low-riders, music and dancing, informative vendors, food and face-painting.
Here is what spectators and participants had to say:
"Great car show"           "A fun family event"
"Very well organized car show"
"I'm glad I entered, there were a lot of different cars"
"Whole families participated in the voting"
Thanks to all the wonderful VMFC members who volunteered
 and made this car show a success!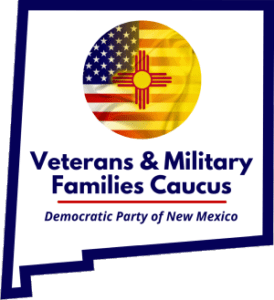 Each candidate is a member of the VMF Caucus and running for office in New Mexico. Candidates running for US House of Representatives, statewide offices and the NM House of Representatives completed a comprehensive questionnaire, were interviewed by our Candidate Endorsement team, were recommended by our Executive Committee and approved by a vote of our general membership. We also endorse VMFC members who are running for County and Municipal offices and Judgeships. Each candidate demonstrates a commitment to work in support of New Mexico's veterans and military family members within the capacity of the office they are seeking.
Click here to see all of the candidates endorsed by the VMF Caucus.
DVS, Albuquerque VA Regional Office to Host
PACT Act Town Hall Meeting
October 6 in Albuquerque
The New Mexico Department of Veterans Services (DVS) and the Albuquerque VA Regional Office (VARO) will host a PACT Act town hall meeting in Albuquerque on October 6. The meeting will be from 10 a.m.-noon at the National Hispanic Cultural Center's Bank of America Auditorium, located at 1701 4th Street SW, and is open to military veterans, active service members, and their families. There is plenty of free parking at the center. There is also an online/virtual option via WebEx:
Access code: 2761 322 2013       Password: WrrN3ydc$34
Honor Flights NM is back!

Honor Flight of Northern New Mexico is a 501c-3 non-profit organization dedicated to providing veterans with honor and closure by taking them free of charge to reflect upon their memorials in Washington, D.C. Priority is currently being given to World War II and Korean War Veterans as well as terminally ill veterans from other conflicts. 
Next Honor Flight trip is scheduled for June of 2023
They have a backlog of veterans waiting for a seat – your contribution can help them send a veteran to D.C.
Learn more, make a contribution
–
Click HERE
or call 505 835-1993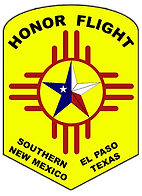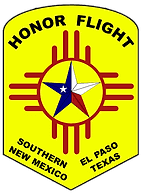 Honor Flight of Southern New Mexico and El Paso transports America's World War II, Korean and Vietnam War Veterans to Washington DC to visit the memorials built to honor and remember those who served. This trip of a lifetime provides closure, healing and the welcome home these heroes deserve. Every veteran is taken on the flight at no cost to themselves.
NM Veterans Memorial
Needs Volunteers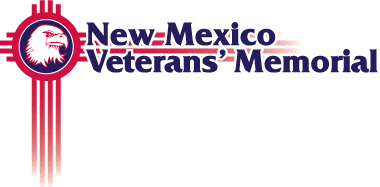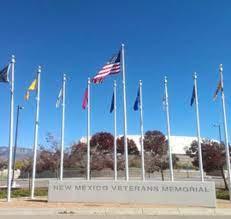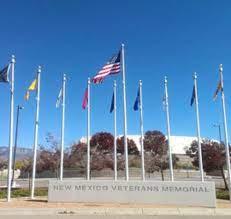 The NM Veterans' Memorial Park is a special place to respect our veterans past, present, and future who have served our country here and other places around the world.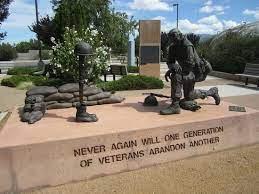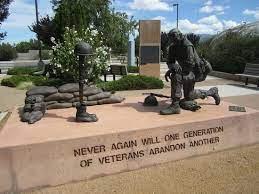 The Visitors' Center and Museum
Open from 9am to 3pm everyday. 
Admission is FREE. 
1100 Louisiana Blvd., SE, Albuquerque, NM 87108
They are looking for volunteers to work inside
or outside the Visitors' Center. 

Interested? Call them at (505) 256-2042
Click here to see our YouTube playlist of
Guest Speaker Series videos.

The Veterans and Military Families Caucus champions the interests of our veterans and their families and advocates to ensure the benefits they have earned in service to our nation are protected. Our country has a sacred, moral responsibility to honor all of our veterans and wounded warriors. The Caucus works to bring more veterans with aligned values into the DPNM and to ensure the DPNM carries out its responsibility to support issues specific to veterans and their families.
The Veteran's Spotlight column is a regular feature about our Caucus members. Each month we feature a veteran whose service to our nation in uniform and whose continuing service are examples of commitment that go above and beyond.
Chris Sedillo
USN Veteran
by Sue Wolinsky, Family Member, Army IL National Guard
The Navy Vet Who Didn't Follow His Own Advice
He spent 26 years in the US Navy and didn't follow his own advice: "Never Again Volunteer Yourself!" This is US Navy Senior Chief (ret.) Chris Sedillo's description for NAVY, if you read it as an acronym. 
"I volunteered for everything," the native of Albuquerque reflected, "for schools, for getting sent to Iraq, for transporting chemical retrograde from Germany to Johnson Atoll.  While I was stationed at Joint Communication Support Element and assigned to the Quick Reaction Company (a joint duty assignment) some Navy jump billets opened up, I quickly volunteered for jump school and off to Ft. Benning, GA, I went. It was an elite thing to do — to be a paratrooper.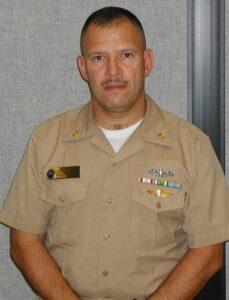 "While stationed in London I again volunteered to deploy aboard the SS Gopher State (T-ACS 4) as part of Operation "Steel Box" to transport chemical munitions from the Federal Republic of Germany to Johnston Atoll in the South Pacific. It was a chance to do something different and to travel. When I was Officer-in-Charge of the Military Detachment (MILDET) onboard the USNS Sioux (T-ATF 171), we received a faint, almost inaudible, call of Mayday!  Mayday!
"As OIC, I reported the distress signal to the ship's Master, and the USNS Sioux rescued a stranded couple from a sinking vessel. Once again, the USNS Sioux was summoned for a no-notice call for the search, rescue, and recovery of Alaskan Airlines Flight 261 after it crashed. I volunteered and was selected to augment JTF-67 on a real-world mission to Vietnam for 60 days for the search and recovery of POW/MIA remains. Because of all this volunteering, I've been to almost every port in every country. I learned different cultures, different philosophies, and a host of different religions. I learned that there are great people everywhere." 
Navy Senior Chief (ret.) Chris Sedillo Honored for
Performing in 50 Honor Guard Functions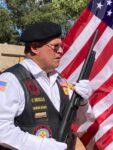 With a quiet reverence for those who served and an unwavering dedication to honoring our country during public gatherings, US Navy Senior Chief (ret.) Chris Sedillo has participated in hundreds of military honor guard functions.  This includes 150 performed while he was on active duty (in 3-1/2 years) and 50 more in civilian life since he took over as Honor Guard Commander in June 2021, for American Legion Post 13 in Albuquerque.
He joined the Blue Warrior Honor Guard at Tinker AFB, where he was part of an elite team of Navy and Air Force personnel providing military honors in the highest traditions at funerals, presentation of the flag to next of kin, forming a saber arch for dignitaries, and community events such as Fourth of July parades.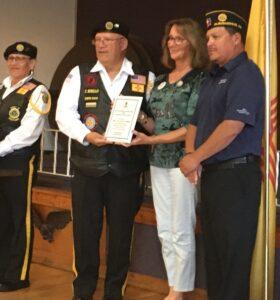 Sedillo was honored on September 19 for these 50 Honor Guard functions since he became a civilian. Claudia Risner, Chair, presented him with the commemorative plaque from the VMFC. It was the caucus' first Honor Guard commemoration.
Why, you might ask, has he performed so many Honor Guard functions and why does he continue? "I try to put myself in the position of losing someone, and I do it with empathy. I do it to honor their loved one after they passed," he said.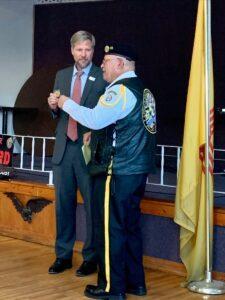 In the past two years, Sedillo doubled the number of American Legion Post 13 Honor Guard volunteers from 10 to 20, with a hard-sell recruitment effort he tirelessly shared with the many civic and military-service related organizations he supports. He is the Honor Guard Commander and Chaplain for American Legion Post 13, as well as a member of American Legion Riders. "Now that I'm in charge, I get calls from every funeral home, I have to do everything. Some months, we do three to four Honor Guard functions; some months, we do 12-15," he said.  His American Legion Post 13 Honor Guard team recently took first place for both medium and large Honor Guard groups at NM Department of Veterans Services (DVS) 13th annual fall training conference and competition (sponsored by AARP).
"I will never forget the first Honor Guard function I did when I was on active duty," he said.  "I presented the American flag to the eight-year-old daughter of one of the 168 persons killed in the Oklahoma City bombing," Sedillo recalled. "She had tears running down her cheeks. That was the hardest time I ever presented the flag. I'll never forget her. I was part of the Color Guard that participated in the Fourth of July parade and the raising of the national flag, which officially ended the mourning period of the Oklahoma City bombing of the Alfred P. Murrah building."
Sedillo also participates in The Forgotten Heroes program, which is for veterans who have served with honor, but do not have a family member to claim their body. So every September these veterans are escorted from Strong-Thorne Funeral Home in Albuquerque to the Santa Fe National Cemetery. There is a police escort that also includes American Legion Riders, Patriot Guard and other motorcyclists who escort our veterans' remains.  A special ceremony is held at Santa Fe National Cemetery including a eulogy and full military honors for these veterans. He has participated for 5 years including this year, on 29 September, during which the cremated remains of 29 military veterans (3 women, 26 men) were buried.
The Forgotten Heroes Program
is a unique collaboration between the NMDVS, Bernalillo County, Santa Fe National Cemetery, and the Director's Choice Mortuary Services of Albuquerque. This joint effort ensures that no veteran is alone at the end, and that he or she receives a funeral with the military honors available to honorably discharged veterans.
To view the 8-min video of the 2021 burial of the unclaimed
cremated remains of 22 veterans –
Click HERE
For News and Articles Important to Veterans,
Sign Up For Our Newsletters Here
Leave a comment or send us a message.