Serving
New Mexico's
Veterans
Committed To Serving Those Who Have Served
Happy Independence Day America!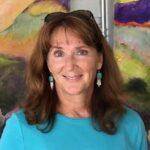 Message from our Caucus Chair

Happy Birthday U.S.A – 246 years old and going strong!
Join in some of the community festivities to celebrate our independence with family and friends. It's a terrific way to have fun and watch some fireworks displays – safely. Remember NM is in fire condition "tinder box".
We've gathered info on community celebrations across NM, but please check with the local organizations as the events may change as we near the date. Here's what else we have in this newsletter:
Pointers on celebrating for Veterans with sensitivities
Celebrations across New Mexico
Update on VA recommendation to close NM clinics and terminate PTSD services
Claudia Risner, CAPT (ret) U.S. Navy
To see celebrations around the state, Click here…
VA Clinics in NM to stay open!
Manchin, Rounds, Heinrich, Capito Reintroduce 
Bipartisan Bill to Eliminate the VA AIR Commission
Washington, DC – Today, U.S. Senators Joe Manchin (D-WV), Mike Rounds (R-SD), Martin Heinrich (D-NM) and Shelley Moore Capito (R-WV) reintroduced the Elimination of the VA Asset and Infrastructure Review (AIR) Commission Act which would eliminate the commission that is tasked with finding VA facilities that should be consolidated or realigned. 
"Our Veterans have put their lives on the line to protect our nation and deserve easy access to the healthcare they have earned," said Senator Manchin. "The VA's recommendations to the AIR Commission are skewed against rural states like West Virginia, which would see a reduction in services at three of our four VA Medical Centers (VAMCs). I'm proud to reintroduce this bipartisan legislation to ensure our brave Veterans don't lose access to the healthcare they earned and sacrificed for and I encourage my colleagues on both sides of the aisle to join this critical legislation."
Read the rest of the article – Click HERE
Sen. Joe Manchin says commission tasked
with downsizing veterans facilities to be dismantled
PBS News Hour – Politics, 27 June 2022
CHARLESTON, W.Va. (AP) — A group of U.S. senators has agreed to effectively dismantle a commission tasked by the Department of Veterans Affairs to carry out closures, downsizing and other significant medical facility changes nationwide, Sen Joe Manchin said Monday.
The West Virginia Democrat, a member of the Senate Veterans Affairs Committee, said there is bipartisan support to avoid filling vacancies on the VA's Assets and Infrastructure Review Commission and to end the commission in the next National Defense Authorization Act. 
The commission had recommended the closures or downsizing of several older facilities, a proposal that Manchin worried would significantly alter services provided to rural veterans across the country. But other groups had welcomed the commission's work, saying it was necessary to modernize and improve the VA's health offerings.
Manchin said in a statement that without the Senate's approval of the AIR Commission and its nominees, no commission will be established and the process as outlined by the 2018 VA Mission Act "will not move forward." The act required Veterans Affairs to make recommendations for its medical facilities and health care delivery, either through facility expansions, relocations, closures or changes in services.
Read the rest of the article – Click HERE
VA Clinics in northern NM to Stay Open
by Ryan Boetel, Albuquerque Journal Staff Writer, June 27th 2022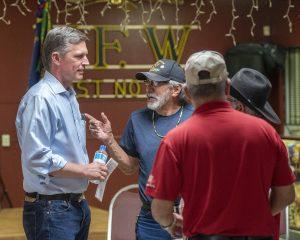 Jose Salas, center, a Vietnam Veteran, and others talk to U.S. Senator Martin Heinrich in April about keeping a V.A. Outpatient Clinic open in Las Vegas. New Mexico's U.S. senators announced Monday that the clinics will stay open. (Eddie Moore/Albuquerque Journal)
New Mexico's U.S. senators announced on Twitter Monday that Veterans Affairs clinics in New Mexico are no longer at risk of closing.
The Department of Veterans Affairs had recommended that VA outpatient clinics in Las Vegas, Raton, Española and Gallup be closed, in part because of a decline in patient volume in the last five years and projected declines for the rest of the decade.
"I've been hell bent on saving these clinics so vets in rural areas can get quality health care close to home," Sen. Martin Heinrich, D-N.M., said on Twitter. "Today, I joined (Sen. Jon Tester, D-Montana) and a bipartisan group of Senators to end the (Asset and Infrastructure Review) commission process (and) keep these clinics open."
Heinrich in April traveled to Las Vegas and spoke with area veterans that would have been affected by the closures.
Sen. Ben Ray Luján, D-N.M., and U.S. Rep. Teresa Leger Fernández, a northern New Mexico Democrat, have also spoken against the proposed closures.
"From day one, I've been clear that the process to close (four) veteran health clinics in NM didn't have my support," Luján said on Twitter. "It's not what's best for our veterans or those who support them. I'm proud to announce the Senate won't be moving forward with the process."
FOR IMMEDIATE RELEASE
June 27, 2022
Contact: Nairka J. Treviño Müller
Nairka.Trevino@mail.house.gov
Rep. Leger Fernández Applauds Plan to Keep Veterans Health Clinics in Northern New Mexico Open
WASHINGTON – Congresswoman Teresa Leger Fernández issued the following statement after U.S. Senators announced that they will not move forward with the AIR Commission process. This will effectively prevent the closure of the Española, Gallup, Las Vegas, and Raton veterans health clinics: "Over the last few months, I listened to veterans in Raton, Las Vegas, Española, and Gallup describe how the VA community health clinics provided them access to essential care. I carried their stories and worries about losing these clinics to my colleagues and to Secretary McDonough.," said Rep. Leger Fernandez. "We promised the vets we would do everything we could to keep the clinics open and the Senate action to halt the AIR Commission keeps that promise. The veterans earned the right to receive care wherever they live. Now it's time to focus on increasing care at our rural clinics and for our vets – from increased mental health in the STRONG Act to addressing harm from burn pits in the PACT Act."
Read the rest of the article – Click HERE
Click here to see our YouTube playlist of
Guest Speaker Series videos.
Urgent Call to Action
Help NM Wildfire Victims
& First Responders
The strong winds and tinder-dry conditions are fueling fires that are raging across northern New Mexico. The Governor has declared a state of emergency in Colfax, Lincoln, Mora, San Miguel and Valencia counties due to ongoing wildfires. Fellow veterans, their families and other New Mexicans are fleeing their homes, evacuating their pets and livestock, and need our assistance. There are many local agencies and organizations lending a hand, but there remains a tremendous need for donations.
All Together NM Fund was established in 2020 by the NM Coalition of Community Foundations in conjunction with the Governor's office to help New Mexico respond to and eventually recover from the COVID-19 pandemic. The Fund has been used to address immediate needs and offer long-term support for the recovery work that continues to lie ahead. 
The Governor announced that the All Together NM Fund is coordinating donations for New Mexicans impacted by wildfires.

Support from the All Together NM Fund will go to emergency shelter, food and water distribution, and other critical services.
 
To learn more and to DONATE – 
Click HERE
Donations can be made by check also: "All Together NM Fund" and mailed to the Santa Fe Community Foundation, PO Box 1827, Santa Fe, NM 87504
The USDA Forest Service maintains up to date information about the spread of the fires, closures, and alerts in NM. Before you travel check their Alerts and Notices on closures and restrictions and STAY SAFE!
Check out the fire map – Click HERE.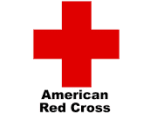 Red Cross Helps in NM as Wildfires Force Thousands from their Homes

9 May 2022, The American Red Cross is on the ground in NM where one of the largest wildfires in the state's history has forced tens of thousands of people to leave their homes.
New Mexicans begin receiving wildfire relief funds
by Chris McKee, KRQE, posted: May 10, 2022/09:45am
As federal disaster relief crews are hitting the ground, responding to New Mexico's destructive wildfires, the state says nearly 200 households have already received some level of financial assistance. The update from Governor Michelle Lujan Grisham and other state leaders came Tuesday Morning after what was projected to be roughly 100 hours of winds and extreme temperatures over the weekend.
Read the rest of the article – Click HERE.
Watching the crisis from afar and wondering how you can help?

There are so many crowdfunding sites and nonprofits that the options for giving can be overwhelming and frustrating. And not all are legitimate. The New York Times spoke with four aid organizations that have worked in Ukraine before and received high marks from the charity evaluator, Charity Watch. 

The Veterans and Military Families Caucus champions the interests of our veterans and their families and advocates to ensure the benefits they have earned in service to our nation are protected. Our country has a sacred, moral responsibility to honor all of our veterans and wounded warriors. The Caucus works to bring more veterans with aligned values into the DPNM and to ensure the DPNM carries out its responsibility to support issues specific to veterans and their families.
The Veteran's Spotlight column is a regular feature about our Caucus members. Each month we feature a veteran whose service to our nation in uniform and whose continuing service are examples of commitment that go above and beyond.
Jeff Swanson
USMC and USAF Veteran
Combat Veteran / Chaplain
Makes Sense of the World with a Life of Service
"You could have hostility, anger, fear, unfairness about life or you can do something good with your lives; turn that pain into compassion, to do things to make the world a better place."
This quote from VMF Caucus Vice Chair for CD2, Carl Jeff Swanson, USAF Chaplain, Col. (Ret.), describes the mantra that has guided his life from childhood through a tour in Vietnam with the US Marines, a career as a pastor, and as a chaplain in the US Air Force (USAF).
He learned that mantra growing up in rural north central Illinois. His parents' generation lived through the depression and some lost their farms, including his parents; they survived with jobs in town. As a kid, he spent every waking moment on relatives' farms. He learned a hard-work ethic and sense of patriotism growing up with them.
After infantry training at Camp Pendleton and helicopter crew training in Memphis, he was sent to North Carolina to reconstitute a helicopter squadron that was destroyed in Vietnam. He shipped out in July 1969 and spent the next 11 months and 28 days in I Corps, in DaNang and Phubai with the 1st and 3rd Marine divisions, along with Korean and South Vietnamese Marines. He supported resupply missions, troop insertions and extractions, and medivac operations.
"I'm the only one (of the buddies who kept in touch) left alive for the past 20 years," the former Marine sergeant recollected. "I've had a lot of survivor guilt that told me I want to use my days to be productive."(A bit of history: the names of the 58,318 Americans who gave their lives in service to their country in the Vietnam conflict are immortalized on the Vietnam Veterans Memorial in Washington, DC.)
History of the U.S. Navy Nurse Corps
Women worked as nurses aboard Navy ships and in Navy hospitals since the very early 1800s, yet the U.S. Navy Nurse Corps (2900s) was not formally established by an Act of Congress until 1908.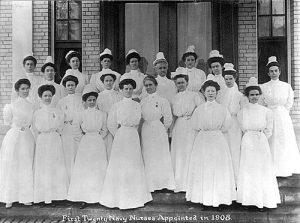 Twenty women were selected and appointed to be the official pioneers of the new Nurse Corps and they were assigned to Naval Medical School Hospital in Washington, D.C.  They were nicknamed "The Sacred Twenty" and were the first women to serve formally as members of the Navy. This fledgling Corps group expanded to 160 on the eve of WWI. Their duties also expanded beyond normal hospital and clinic duties to include training natives in U.S. overseas possessions as well as training the Navy's male enlisted medical personnel – corpsmen.
For Up To Date Information About Our Caucus
Sign Up For Our Newsletters Here
Leave a comment or send us a message.