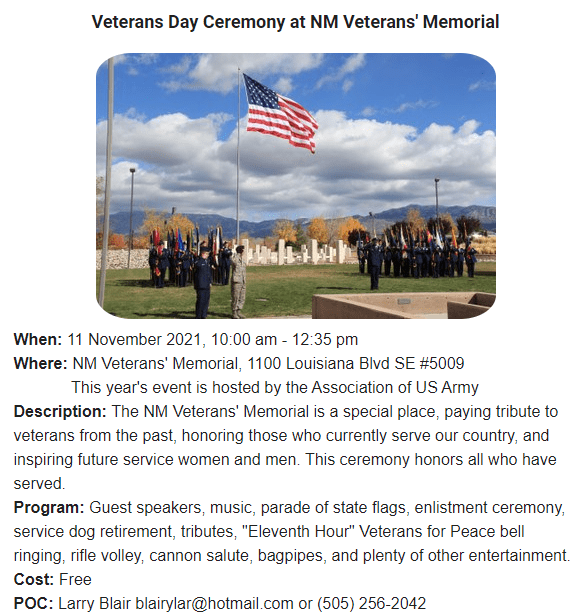 Historic Fairview Cemetery Veterans Day Observation
When: 11 November 2021, 10:00 am – 2:00 pm, ceremony begins at 10:30 am
Where: Historic Fairview Cemetery, 700 Yale Blvd. SE. Enter through the gates of Fairview Memorial Park, near the intersection with Avenida Cesar Chavez. Proceed east to the cemetery office, turn left and continue north into the historic cemetery area.
Description: The Historic Fairview Cemetery nonprofit organization invites visitors to honor those who have served in the US military. Historians will speak about New Mexican involvement in the Civil War, the Spanish American War, the Bataan Death March in World War II and other conflicts. Visitors can take a self-guided tour and listen to the scheduled speakers located throughout the cemetery.
 
Historians who will be speaking at the event include:
John Taylor, author of The Battle of Glorieta Passand Bloody Valverde
Melanie LaBorwit, Educator, New Mexico History Museum, expert on Rough Riders
Richard Melzer, Ph.D., historian and author of numerous books, including Buried Treasures: Famous and Unusual Gravesites in New Mexico History
Helen Beatty, Regent, Lew Wallace Chapter, Daughters of the American Revolution, and other DAR members, on Buffalo Soldiers buried in Historic Fairview Cemetery
Background: While there are approximately 12,000 burial sites in the cemetery started in 1881, fewer than 6,000 have markers. There are Rough Riders, Buffalo Soldiers, Confederate soldiers, and two other sections of veterans interred in Historic Fairview Cemetery. The cemetery is run by an Albuquerque nonprofit organization dedicated to maintaining the cemetery and sharing the stories of its residents. 
Cost: A donation of $20 for each adult is requested to support cemetery maintenance and provide educational materials. Make donations on-site at the event or online – Click HERE
POC: Gail Rubin, President of the Historic Fairview Cemetery nonprofit organization. gail@agoodgoodbye.com, work (505) 265-7215, cell (505) 363-7514.