Suicide is More than a Statistic
when it Takes Your Buddies
We are honoring U.S. Air Force  Veteran Greg Seeley, Technical Sergeant (ret), for his service to our nation in uniform and for his continuing service since, including with our Caucus as Strategic Director, Committee for Veterans Advocacy
by Sue Wolinsky, Family Member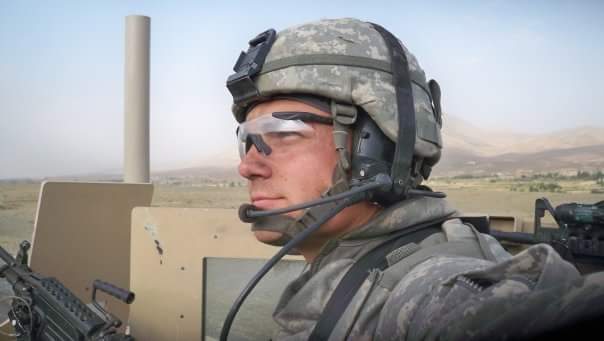 Suicide is no stranger to Greg Seeley (USAF ret) — the Albuquerque native, veteran's advocate, mentor, former Congressional staffer, small business owner, active member of our caucus, loving father of three boys and an "extra" in the 2016 movie, "Whiskey Tango Foxtrot."  He's had many types of experiences, but there's one area that has left its mark — suicide.
He lost a friend to suicide when he was only in the seventh grade, which left him confused and angry.  A few years later, he quit high school, hoping he'd find his path in life.  After he earned his GED, he tried UNM but quit after a few semesters.  Two more friends died by suicide.  He lost a total of five friends that way.  Still searching for his path in life, he moved out of state, but that didn't work out, so he returned to Albuquerque and enlisted in the USAF.
An Army friend killed himself when Seeley was in Afghanistan.  The GI was well liked; everyone at Camp Phoenix near Kabul felt his loss.
Serving on the Honor Guard at Kirkland AFB (KAFB) reminded him of the loss that suicide leaves on loved ones.  His first Honor Guard was for a deployed USAF airman who died by suicide.   "I'll never forget the pain suffered by those left behind.  Being there was the powerful moment in my life that motivated me to work on veteran's issues when I got out.  I saw a lot of hurt in the community and that inspires me to work hard to help vets," he said.
Not much later, when the chronic depression that festered since his Afghanistan deployment had finally raged out of control, he tried to take his own life.  He failed; and in his failure, he began building the successful life he's still living today. 



Ever since then, he has humbly shared his personal pain and his personal growth, hoping it can loosen suicide's grasp on each tortured soul he meets.  "That is real personal with me, to help young men with their issues.  I try to put myself out there as an example to help them overcome the stigma (of mental health issues). My message is that I want people to know that they're not alone in this," Seeley explained.  He did not come by this wisdom easily.

MILITARY EXPERIENCE.  Seeley enlisted in the USAF in 2004, served as a Satellite Comms Tech, and deployed to Afghanistan in 2009 for 16 months as part of an imbedded training team within the Afghanistan army. He was a gunner for a convoy security team, moving large weapons across the war-torn country. "It pisses me off now to see the Taliban going off with our stuff and seeing (us) bombing our stuff so they can't get it," he commented. 

It was during this time that a buddy in the Army stationed at Camp Phoenix in Kabul died by suicide.  This experience left its impact on Seeley, who realized later (in treatment) that he had repressed the feeling that he wouldn't make it home from Afghanistan alive.  That's one of the ways US soldiers deal with death there, he said. Death was a major part of life during his deployment.  Fortunately, he and his unit returned home safely.  "It was about that time that the military started to take notice of the number of suicides in their ranks and started focusing on suicide prevention," Seeley explained.

POST DEPLOYMENT:  He returned to KAFB in 2010 after his deployment and his father passed away the day after he returned. Tragically, another friend in Albuquerque died from suicide. "His family just buried him quietly, which makes it that much harder.  When they keep it quiet, it's hard to mourn the loss," Seeley recollected.  

He then served three years at Hickam AFB in Hawaii before returning to KAFB as a recruiter.  "It was a big deal for me to help kids in New Mexico who were like me; kids who really struggled with what they wanted to do with their lives.  I got the chance to do that as a recruiter, but recruiting is a hard life.  Long hours and long days with a lot of pressure.  It's tough on family life," he reflected.  He and his wife separated; she took the kids; they later divorced.

His life was shattered by the separation and the recurring thought that he should have died in Afghanistan. He drank heavily, hiding that and the problems that had caused it.  "I was out of my element," he said.   "When I came home and hadn't died, it didn't feel right because I thought I should have died…. A million different things could have killed me.  Every bridge was blown when I got there; typically, a bridge would get blown up when a truck was on the bridge.  On the one hand, it felt like the most pure thing I could do – to serve my country as a soldier.  My job was to keep my team safe.  On the other hand, I'd see the enemy on top of a building, filming us. There were many days like that and we started thinking we were going to die."

Seeley tried to kill himself but failed.  That's when he knew he needed help.  With the encouragement of his senior NCO, he self-referred to Alcohol Abuse and Prevention.  "I was lucky," he said.  "My senior NCO could have punished me."  Treatment was difficult; he credits his great medical team for his success.  

CIVILIAN LIFE.  After treatment, the USAF convened a medical evaluation board to determine if he was fit for duty.  "They medically retired me at the end of 2016 and my problems got worse," he said, but he persisted.  "That's when I met my second wife; she changed my life in a big way.  I went to work for the Veterans Integration Center in Albuquerque. Serving other veterans helped me a lot.  My feeling of being 'cut loose' from the military went away," Seeley said.  

That feeling has stayed away, being replaced by Seeley's desire to help veterans. 
He got involved in the Democratic Party and met now Secretary of the Interior Deb Haaland.  He boldly asked her, "Who does veterans' work on your team?"  She answered, "You do now!"  He provided excellent research and analysis to her throughout her Congressional campaign and time in office.  "She believed in me enough to make me her veterans policy staffer in Washington.  She served on subcommittees that have much jurisdiction over the quality of life available to veterans and their families.  I'm happy to say that we passed several laws that helped veterans," he said.

Happy!  That's the best word to describe Seeley today.