The Veterans and Military Families Caucus has been hard at work identifying legislation that would benefit New Mexico Veterans. We have completed our first weekly legislative priorities summary and have begun promoting it on our website.
We first began tracking bills on January 3rd and we now begin the process of advocating, providing testimony, and promoting the bills that we support. We have also provided legislators with valuable statistics on our veterans to help in our efforts.
Did you know that New Mexico ranks 13th in the nation for concentration of veterans?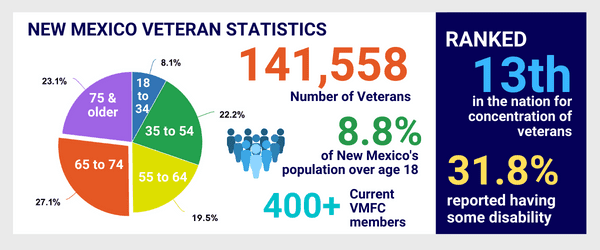 Data source: NM Department of Workforce Solutions Economic Research & Analysis Bureau's 2022VeteransProfile.pdf and U.S. Census Bureau 2020
There are a lot of veterans in New Mexico! We are grateful to the NM Representatives and Senators who are sponsoring legislation that seeks to improve the lives of New Mexico Veterans and Military Families.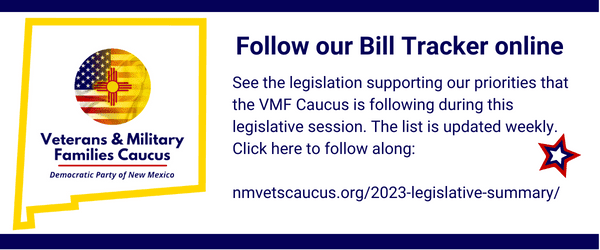 If you are not currently receiving our newsletter but you are interested in learning more about our Veterans and Military Families caucus please subscribe to our monthly newsletter.
Not a member? Are you a registered Democrat in New Mexico and ready to join our mission? Veterans, Active Duty, Guard, Reservists, Military Family members, and strong supporters without a military background are all eligible to join. Apply here.