After Senseless Shooting in Colorado….
VETS CAUCUS REACHES OUT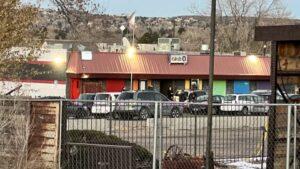 A lone domestic terrorist gunned down patrons in an LGBTQ bar in Colorado. Newspapers, TV news, and social media have shared the senseless tragedy around the country and the world.
What many people don't know is that an active-duty Navy sailor and a US Army veteran sprang into action to stop the shooter and get someone to call 911. For the veteran, his actions triggered PTSD all the while he was trying to save his family and friends. He never expected to use his military training at home, protecting family and friends. The injured sailor also helped to disarm the shooter. 
Two parts of a national story that touches our caucus deeply.
In response to this act of domestic terrorism, your Veterans and Military Families Caucus (VMFC) responds with words of comfort to all affected by this senseless tragedy.
Not just the persons in the club.
Not just the families of those who were injured or killed.
Not just veterans and families.
Not just the LBGTQ community.
All of us are affected.
This is one more attack on our democratic values and on life, itself.
For veterans and all others who are in crisis, contact the Crisis hotline by punching 988 on your phone.  Veterans choose Option 1.
Following the caucus' response, we have provided links for more information about the attack and the brave but conflicted veterans who were able to subdue the attacker.
Here, former USAF Chaplain, enlisted Marine Vietnam Veteran, and CD2 Vice Chair for VMFC, offers the caucus' heartfelt response to this senseless shooting. 
           In Solidarity, Sue Wolinsky
CAUCUS RESPONSE
Our Veterans and Family Member Caucus offers heartfelt condolences to the wounded and grieving loved ones in the aftermath of the Colorado shootings.  We share the profound sadness and shock to our nation.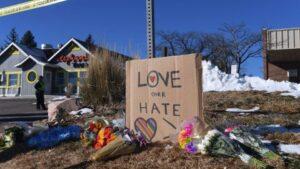 And more!  We are dedicated to eradicating unnecessary violence and all forms of prejudice and hostility to our beloved LGBTQ+ citizens.  
Our veterans served our nation, including with many LGBTQ+  warriors, by being trusted with military means for defense.  We understand both the proper and improper use of power and weapons.   
We are determined to advocate for public safety, equal opportunities, and civility so that ALL citizens may have "…life, liberty, and the pursuit of happiness…"  in our thriving nation governed, "of, by, and for the people…".   We all took an oath "…to defend our Constitution against all enemies, both foreign and domestic."  Our mission continues.
Our sentiments of grief are thus bestowed.  Our resolve is undaunted, to remember the sacred dead and wounded who gathered only to celebrate, in liberty, an evening of fun and camaraderie.
Their light is passed, now, to ALL true patriots.  Your Veterans and Family Member Caucus is at the front.
Jeff Swanson (Ret. USAF chaplain, Vietnam Marine vet)
VMFC CD2 Vice Chair
For the VFMC