Watching the crisis from afar and wondering how you can help?

There are so many crowdfunding sites and nonprofits that the options for giving can be overwhelming and frustrating. And not all are legitimate. The New York Times spoke with four aid organizations that have worked in Ukraine before and received high marks from the charity evaluator, Charity Watch. Here they are…
Direct Relief is one of the world's largest distributors of donated medical supplies. They have provided Ukraine with $26 million in medical aid in the past six months, including emergency medical packs, requested by the Ukrainian Ministry of Health.
Mercy Corps provides humanitarian assistance and community building in more than 40 countries. They are sending aid workers to Romania and Poland along the Ukrainian border, where it plans to support local organizations with cash grants in the coming weeks.
International Medical Corps plans to increase its presence in the country, focusing in particular on mental health care and access to food and water to meet the needs of displaced Ukrainians.
Save the Children has been assisting Ukrainians since 2014. They are helping local organizations stock up on hygiene kits and winter clothes and helping distribute those supplies They are also providing protective services for unaccompanied minors fleeing the country.
Another legitimate and worthwhile organization working to keep Ukrainians who have fled their country fed is the World Central Kitchen.
One million meals served as
#ChefsForUkraine relief effort grows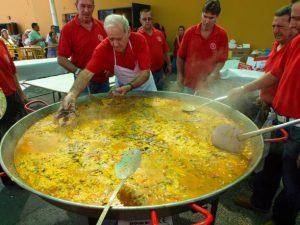 The new World Central Kitchen is located in Przemysl, a Polish city just miles from the border with Ukraine that is receiving tens of thousands of refugees every day. From this kitchen they have the capacity to scale up and cook 100,000 meals per day utilizing massive WCK paella pans (image on right) and 12 large ovens.
The following articles are thought-provoking and may not
reflect mainstream opinions.
A Proposed Solution to the Ukraine War
by Greg Mello, LASG, 8 March 2022
An end to the invasion and war in Ukraine can only be guaranteed if Russia's security is itself guaranteed. Security is largely indivisible. Security for one state requires security for others, says the Los Alamos Study Group (LASG).
John Pilger: One of the most respected and best informed anti-nuclear war groups in the world is the LASG. Founded at the end of the Cold War in Los Alamos, NM, where the first nuclear bombs were designed and built, the LASG's aim of taking nuclear weapons out of foreign policy. It has won landmark environmental, civil rights and freedom of information lawsuits in the U.S., provided hundreds of top-level briefings, and played a crucial role in preventing the production of the core elements of plutonium warheads. As nuclear war threatens over Ukraine the LASG has released this remarkable and urgent analysis of the risks and the solutions.
Since the Russian invasion of Ukraine began, what was a regional conflict has become a global hybrid war with ever-greater stakes, not least the risk of nuclear war.
Perhaps the greatest danger lies in the difference of motives between parties, which is also the fundamental cause of this war: Russia seeks security, while the U.S. and its NATO allies have been using Ukraine to deny that security – to "break Russia," in Henry Kissinger's 2015 phrase. The U.S. does not want peace, unless it be the peace of a conquered Russia. 
Will the Ukraine War Spell the End of Globalization?
By Spencer Bokat-Kindell,
New York Times, 30 March 2022
In a letter to shareholders last week, Larry Fink, the Chief Executive of BlackRock, the world's largest asset management company, issued a striking warning about a shift he perceived in the global economic order. Vladimir Putin's invasion of Ukraine had compelled governments and private companies like his own to retaliate by severing business ties with Russia. This response was justified, he wrote, but it had come at a cost: "An end to the globalization we have experienced over the last three decades."

It's a sweeping claim, and Fink is far from alone in making it. But what would the end of globalization actually look like, and how would a transformation of international trade affect the daily lives of citizens around the globe? Are such predictions premature? Here's what people are saying.
Arnold Schwarzenegger speaks to Russians
in emotional plea against war in Ukraine
17 March 2022
Click here to listen…