Serving
New Mexico's
Veterans
Committed To Serving Those Who Served
After Senseless Shooting in Colorado….
VETS CAUCUS REACHES OUT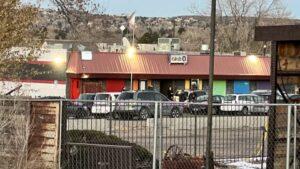 A lone domestic terrorist gunned down patrons in an LGBTQ bar in Colorado. Newspapers, TV news, and social media have shared the senseless tragedy around the country and the world.
What many people don't know is that an active-duty Navy sailor and a US Army veteran sprang into action to stop the shooter and get someone to call 911. For the veteran, his actions triggered PTSD all the while he was trying to save his family and friends. He never expected to use his military training at home, protecting family and friends. The injured sailor also helped to disarm the shooter. 
Two parts of a national story that touches our caucus deeply.
In response to this act of domestic terrorism, your Veterans and Military Families Caucus (VMFC) responds with words of comfort to all affected by this senseless tragedy.
Not just the persons in the club.
Not just the families of those who were injured or killed.
Not just veterans and families.
Not just the LBGTQ community.
All of us are affected.
This is one more attack on our democratic values and on life, itself.
For veterans and all others who are in crisis, contact the Crisis hotline by punching 988 on your phone.  Veterans choose Option 1.
Following the caucus' response, we have provided links for more information about the attack and the brave but conflicted veterans who were able to subdue the attacker.
Here, former USAF Chaplain, enlisted Marine Vietnam Veteran, and CD2 Vice Chair for VMFC, offers the caucus' heartfelt response to this senseless shooting. 
           In Solidarity, Sue Wolinsky
CAUCUS RESPONSE
Our Veterans and Family Member Caucus offers heartfelt condolences to the wounded and grieving loved ones in the aftermath of the Colorado shootings.  We share the profound sadness and shock to our nation.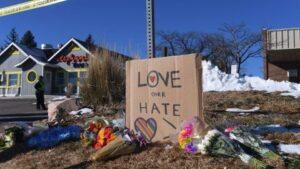 And more!  We are dedicated to eradicating unnecessary violence and all forms of prejudice and hostility to our beloved LGBTQ+ citizens.  
Our veterans served our nation, including with many LGBTQ+  warriors, by being trusted with military means for defense.  We understand both the proper and improper use of power and weapons.   
We are determined to advocate for public safety, equal opportunities, and civility so that ALL citizens may have "…life, liberty, and the pursuit of happiness…"  in our thriving nation governed, "of, by, and for the people…".   We all took an oath "…to defend our Constitution against all enemies, both foreign and domestic."  Our mission continues.
Our sentiments of grief are thus bestowed.  Our resolve is undaunted, to remember the sacred dead and wounded who gathered only to celebrate, in liberty, an evening of fun and camaraderie.
Their light is passed, now, to ALL true patriots.  Your Veterans and Family Member Caucus is at the front.
Jeff Swanson (Ret. USAF chaplain, Vietnam Marine vet)
VMFC CD2 Vice Chair
For the VFMC
Michelle Lujan Grisham
Governor
DVS Pueblo & Tribal Liason Beverly Charley
Honored as One of Eleven
2022 New Mexico True Heroes
(Santa Fe)— New Mexico Department of Veterans Services (DVS) Pueblo & Tribal Liason Beverly Charley has been recognized by New Mexico Magazine as one of eleven recipients of its 2022 New Mexico True Heroes Award.
The announcement was made by New Mexico Tourism Department Cabinet Secretary Jen Schroer in a videotaped message posted on the agency's website revealing the eleven award recipients.
Read more…
Michelle Lujan Grisham
Governor
Sonya L. Smith
Cabinet Secretary
DVS Resumes Its Highly Rural Veterans
Transportation Program
SANTA FE–The New Mexico Department of Veterans Services (DVS) has resumed its Highly Rural Veterans Transportation Program offering free round-trip rides to veterans to and from their home and any U.S. Department of Veterans Affairs (VA) or VA-approved medical appointments.
Read more…
Honor Flights NM is back!

Honor Flight of Northern New Mexico is a 501c-3 non-profit organization dedicated to providing veterans with honor and closure by taking them free of charge to reflect upon their memorials in Washington, D.C. Priority is currently being given to World War II and Korean War Veterans as well as terminally ill veterans from other conflicts. 
Next Honor Flight trip is scheduled for June of 2023
They have a backlog of veterans waiting for a seat – your contribution can help them send a veteran to D.C.
Learn more, make a contribution
–
Click HERE
or call 505 835-1993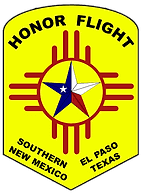 Honor Flight of Southern New Mexico and El Paso transports America's World War II, Korean and Vietnam War Veterans to Washington DC to visit the memorials built to honor and remember those who served. This trip of a lifetime provides closure, healing and the welcome home these heroes deserve. Every veteran is taken on the flight at no cost to themselves.
NM Veterans Memorial
Needs Volunteers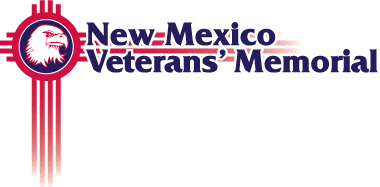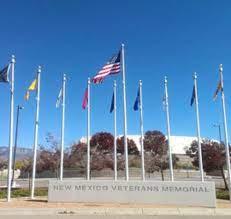 The NM Veterans' Memorial Park is a special place to respect our veterans past, present, and future who have served our country here and other places around the world.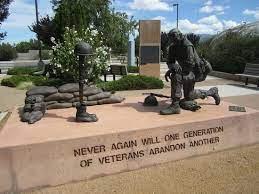 The Visitors' Center and Museum
Open from 9am to 3pm everyday. 
Admission is FREE. 
1100 Louisiana Blvd., SE, Albuquerque, NM 87108
They are looking for volunteers to work inside
or outside the Visitors' Center. 

Interested? Call them at (505) 256-2042

The Veterans and Military Families Caucus champions the interests of our veterans and their families and advocates to ensure the benefits they have earned in service to our nation are protected. Our country has a sacred, moral responsibility to honor all of our veterans and wounded warriors. The Caucus works to bring more veterans with aligned values into the DPNM and to ensure the DPNM carries out its responsibility to support issues specific to veterans and their families.
The Veteran's Spotlight column is a regular feature about our Caucus members. Each month we feature a veteran whose service to our nation in uniform and whose continuing service are examples of commitment that go above and beyond.
Gerri Warner
WAC Veteran and Former USAF Contractor
by Sue Wolinsky, Family Member, Army IL National Guard
A Four-Generation Military Family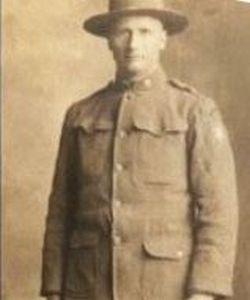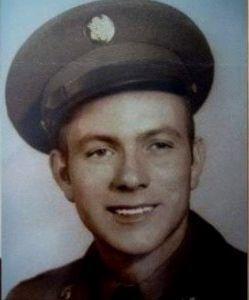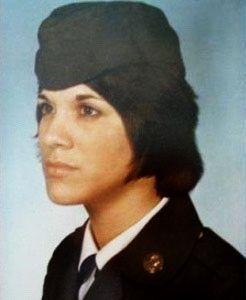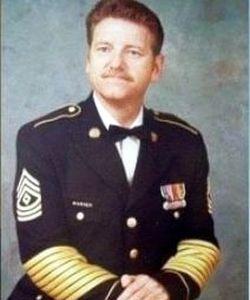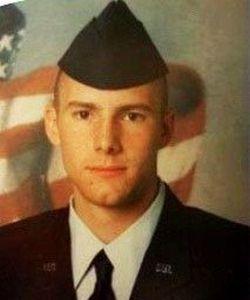 The Warner family is a four-generation military family, spanning from World War I through the Korean Conflict, through the Vietnam War, and up to and including Operation Iraqi Freedom. That service spans nearly 100 years. For the Chuck and Gerri Warner family, that time frame includes a few decades of raising two children who became very grounded in the military tradition.  The family lived at military posts in the US and Europe during Chuck's active-duty service in the US Army, and near military bases while Gerri built her career as a Federal Contracting Officer for the US Air Force.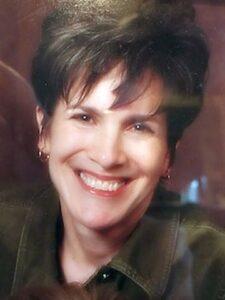 Gerri is a native of Nebraska and enlisted in the US Army for a three-year tour of duty right out of high school. In basic training, she was privileged to be a member of one of the final Women's Army Corps (WAC) units.  Her MOS was communications; she was a member of the US Army Signal Corps and her two-year assignment was with the 279th Signal Platoon in Kaiserslautern, Germany, during which she achieved the rank of Sergeant (E-5).  Gerri currently serves as a Congressional District 3 Vice Chair of the Veterans and Military Families Caucus (VMFC). She and Chuck are retired and living in Albuquerque.
Leave a comment or send us a message.
For News and Articles
Important to Veterans,
Sign Up For Our Newsletters Here