Women worked as nurses aboard Navy ships and in Navy hospitals since the very early 1800s, yet the U.S. Navy Nurse Corps (2900s) was not formally established by an Act of Congress until 1908.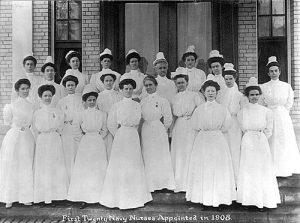 Twenty women were selected and appointed to be the official pioneers of the new Nurse Corps and they were assigned to Naval Medical School Hospital in Washington, D.C.  They were nicknamed "The Sacred Twenty" and were the first women to serve formally as members of the Navy. This fledgling Corps group expanded to 160 on the eve of WWI. Their duties also expanded beyond normal hospital and clinic duties to include training natives in U.S. overseas possessions as well as training the Navy's male enlisted medical personnel – corpsmen.
 
Until 1913 the Navy's nurses served ashore, but then saw temporary shipboard service aboard the USS Mayflower (PY-1) and USS Dolphin (PG-24). The first permanent shipboard positions were as part of the medical staff onboard the 550-bed USS Relief (AH-1), which was the first USN ship designed and built from the keel up as a hospital ship at the onset of WWI. During WWI the Nurse Corps grew to 1550 nurses who served in naval hospitals stateside, abroad, and on troop ships bringing servicemen home from Europe. After Armistice day, 11 November 1918, the corps drew down to 332 nurses, yet training expanded to include diet therapy, neuropsychiatry, physiotherapy and anesthesia which increased their professional status within the service.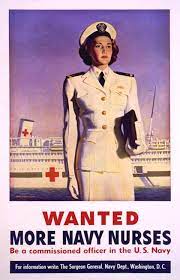 WWII increased the need, and the Corps grew to 11,021 nurses serving on 6 continents. African American nurses were accepted to join in 1945 and men in 1965, with the pioneers of these groups being Phyllis Mae Dailey and George M. Silver, respectively. With the growth and growing success of the Nurse Corps came increased risk. Two groups of Navy nurses were captured and held as prisoners of war during WWII: one group by the Japanese in Guam and the other during the Bataan Death March in the Philippines.
The first group of Naval Flight Nurses graduated from training in 1945 and served on 24 flying teams consisting of a nurse and a pharmacist's mate in both combat and non-combat flights. To graduate they had to swim 1 mile, tow or push a victim for 220 yards and swim 440 yards in 10 minutes. Their contributions to both the success of medical evacuations by air and of the Navy's hospital ships were critical.
 
The Navy Nurse Corps continued to play a crucial role in the wars in Korea, Vietnam, Afghanistan and Iraq. 90% of the 11,000 women who served during the Vietnam War were nurses and the 8 women whose names are on the Vietnam Veterans Memorial Wall were all nurses.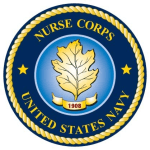 The Navy Nurse Corps' members are highly regarded professionals serving in the ranks of Ensign (0-1) through Rear Admiral (0-8), some in command of naval hospital ships and naval hospitals ashore. They risk, and some have lost, their lives in the line of duty working to save service members in all branches of the U.S. military.
Excellent scholarship opportunities mean you may graduate from nursing school potentially debt-free, and specialty training opportunities can give you a competitive edge in your field.
Learn more about becoming a Nurse Corps Officer – Click HERE.
Monetary benefits include signing bonuses of up to $30,000 for a 4-year obligation on active duty, retention bonuses, and incentive pay. There are also opportunities for nurses to serve in the Reserves as part-time Navy nurses.
Learn more about Special Pay for Nurse Corps Officers – Click HERE.