by Sue Wolinsky, Family Member (IL Army National Guard)
This Veteran's Spotlight column is a regular feature about our Caucus members. We are honoring US Air Force veteran Debbie Sariñana of Albuquerque for her continuing service.
"The US Air Force (USAF) taught me how to be organized, confident and always on time.  I learned to get out in the world and participate.  I found I loved helping people," reflects Debra (Debbie) Sariñana, a USAF veteran.
 
Helping people and serving has been the hallmark of her military and civilian careers. She was a teacher, is a three-term NM state legislator (D-HD 21) and was a medical services specialist in the USAF Reserve.
 
Her father set the standard. "When I was growing up, my dad would often tell us that the greatest honor he had was serving his country. He served in the Army and the Army National Guard for 38 years. Neither of my brothers had an ambition to join the military, and my dad was my hero, so I joined partly to make him proud and partly for the honor and adventure of serving my country," she said.
 
HER MILITARY SERVICE: The Albuquerque native enlisted with a Bachelor of Science degree in education from New Mexico State University (NMSU). She served in the USAFR from 1984 to 1990. "I enlisted with the rank of Senior Airman (SrA) and left with the rank of Sgt." She did her basic training at Lackland AFB in San Antonio. She served as a medical service specialist in the 377 Medical Group and the 452nd Air Refueling Wing – Medical Support.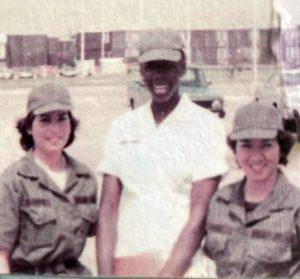 "I remember experiencing my first small earthquake at March AFB in Riverside, CA (I eventually got used to it), the first time I saw a baby being delivered, and my first patient who died. She had gone down to Mexico on vacation and had eaten bad pork; the parasites had moved to her brain. To this day I don't eat pork," said the caring graduate of Manzano High School in Albuquerque.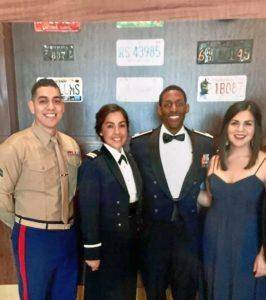 "I remember early in my career manning the telephones for a Jerry Lewis Telethon with my fellow airmen. We were all very proud to be in our dress blues," she said. There were also lighter moments, like the day they changed the eye chart in the flight surgeon's office.  "I remember the reaction of the pilots!"

"I much appreciated those six years! I met good people in the Air Force who worked hard and played hard. In those 6 years I also married a Marine and had my first child, Samantha.  Samantha and her husband, Brent, also serve in the Air Force. Samantha is a Captain and recently got her orders to be the Comptroller for the 89th Airlift Wing at Andrews AFB. Brent just pinned on Major and works for the Space Force.  They met at the Air Force Academy. My son, Dominic, is a former Marine who served two tours in Afghanistan as a Pashto Linguist.  As you can see, the military has been a large part of my life.  We have all served with pride," she reflected.

HER CIVILIAN CAREERS: "As a civilian, I was a computer teacher and then, later, a computer programmer at White Sands Missile Range and a computer programmer/systems administrator/database manager at US Army Yuma Proving Ground, AZ.  In Yuma, I was one of the only female computer programmers during this time working on UNIX based systems, programming in Fortran and C.  I was a part of the beginning of the World Wide Web, which later became known as the internet," she said.  
 
"In 2000, I moved back to Albuquerque and became a high school/middle school math and science teacher," she said.  She also earned a Master of Arts degree in mathematics education, achieved National Board Certification, and even returned to Manzano to teach math. 
 
THE STATE LEGISLATOR:  "While teaching at Kennedy Middle School, I was recruited by the local teacher's union, of which I was a member, to run for state representative in my district.  It took a lot of convincing, as I never thought of running for public office, but I ran and won, and I am now in my third term," she said.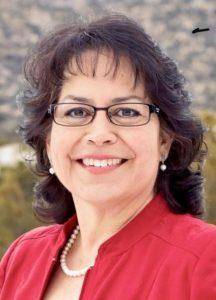 Rep. Sariñana currently serves on the House Energy, Environment and Natural Resources Committee, and the House Appropriations and Finance Committee. Her focus in the Legislature has been education, crime, defense and energy.  "Energy is my biggest focus because climate change is happening all around us and we, New Mexico, need to lead in this area," she said. "This year's push is adding hydrogen to our energy portfolio, with the hopes of being selected as a Hydrogen Hub the eventual outcome." 
"I'm carrying a bill to get more teachers into our schools," said the former teacher.  "We are presently short more than 1000 teachers throughout the state. I am working with the NM Public Education Department, the American Federation of Teachers, our universities and others to amend my 2020 Teacher Residency Bill, to add 4th year students in the College of Education, to the Bill.  Currently, we allow people who are interested in being a teacher and have a degree to apply for the Teacher Residency Program."  
 
She is Leadership Council Co-chair of the Elected Officials Protecting America (EOPA). EOPA is an organization made up of former military elected officials committed to solving the climate crisis. "As a member of EOPA, I was able to attend COP26 and hear directly from world leaders about the climate crisis.  The US Secretary of Defense called climate change 'an existential threat'. I'm hoping to make the climate crisis more real to people in 2022," she said. "Read more about the EOPA conference and how we in New Mexico can become a leader in this area."  Click here…
 
HELPING VETERANS: "Redistricting changed the area I represent considerably," she explained. "I picked up 13 new precincts and lost four important precincts. I now have a total of 10 schools that I look forward to supporting. My biggest loss was the Veterans Memorial, but I will continue to support it as needed."
 
"One precinct I am excited to have picked up is Precinct 363. This precinct is made up primarily of family housing on Kirtland AFB.  I will be visiting the precinct after the 2022 legislative session to hear from our military families about the needs, issues, and concerns that are important to them," she said. 
 
"I am working on a bill with Greg Seeley of the VMF Caucus.  It makes an appropriation for a statewide landscape assessment to establish the AmericaServes New Mexico Program. AmericaServes is the country's first coordinated system of public, private, and non-profit organizations working together to serve veterans, transitioning service-members, and their families." Read more about AmericaServes HERE.
 
We in New Mexico can thank the USAF for giving Rep. Sariñana all that confidence.  Our veterans and our school kids are certainly benefiting from her work.
Rep. Sariñana encourages VMF Caucus members to contact her if they are interested in working with her on any of her priorities. Her email is:  Debbie.sarinana@nmlegis.gov and her phone is (505) 974-9408.