Sen. Harold Pope Jr. -District 23
"If we're not there, we do not have a voice."
New Mexico's first Black state senator shares his journey to the seat.
Message from Rep. Teresa Leger Fernández
Dear Friends, 

I hope you had a wonderful and restful Labor Day Weekend! Each year, this holiday serves as an important reminder that workers are the engine of the American economy. Yet, the pandemic emphasized that the fight for workers' rights continues. May we always celebrate workers and amplify their voices.
Working for New Mexico
This week, I concluded my two-week Agua es Vida Tour to put a spotlight on the climate change impact on New Mexico. During this tour, I met with Rio Chama Acequia Association, local farmers, the Carson National Forest Service, and Taos Pueblo. 
At each stop I heard from local leaders about the impact declining water supply and the climate crisis is having on their communities, and the innovative work they're doing to preserve water resources and manage forest lands for future generations. Though the tour may be over, I look forward to continuing to meet with community leaders on this issue and bringing their stories back to D.C. with me!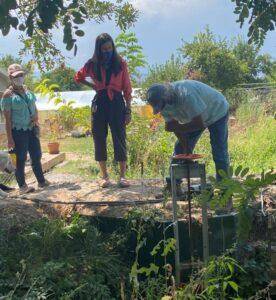 On Wednesday, I introduced the Just Transition for Energy Communities Act to provide resources to help state and Tribal governments that are reliant on fossil fuel development, production, and utilization to diversify and grow their economies.
Our move towards clean energy is a critical step in saving our planet but we can't leave communities behind in the process. Fossil fuel communities powered our country for decades and grew our economy. Now, we must now do the same for them. You can read more about my bill HERE.
Legislative Corner
This week, committees worked to put together the Build Back Better Act.
In the House Committee on Education and Labor, we held markups for our portion of the bill. We have a historic opportunity to lower costs for families, help American workers secure good-paying jobs and set a strong foundation for America's children.
This includes:
Approximately $450 billion to lower the cost of child care and secure universal pre-k for 3 and 4 year-olds
Investments to lower the cost of higher education & provide two years of tuition-free community college
An $82 billion investment in our public school infrastructure to help modernize, repair and rebuild our schools
Expanding workforce development and apprenticeship programs to support workers who were laid off from their jobs
Investments in proven child nutrition programs to bolster the fight against child hunger.
New Mexicans know that our creative workers are vital to the U.S. economy. That's why I secured an amendment to ensure that the bill's workforce development grants are accessible to our artists and creators.
In the House Committee on Natural Resources, we passed critical measures in the Build Back Better Act to invest in climate mitigation, fund wildfire management, ensure that fossil fuel companies pay their fair share, and to support Tribes.
These investments will help us develop good-paying jobs, such as a Civilian Climate Corps. The time to develop sustainable economic development is now. The Build Back Better Act recognizes that urgency.
Constituent Services
Congressional App Challenge
Middle and High School Students: The Congressional App Challenge is still accepting applications from students or groups interested.
Don't miss out! You can learn more about what you need to apply HERE.
Historically Underutilized Business Zones (HUBZones)
There are many HUBzones in our district that qualify for help from the Small Business Administration.
Use their interactive map to see if your small business falls in one of these zones & check out how to find out if you qualify HERE.
Sincerely,
Teresa Leger Fernández